Arc Stages' 'Bat Boy' a Wild Good Time With Lessons to Be Learned
News Based on facts, either observed and verified directly by the reporter, or reported and verified from knowledgeable sources.
We are part of The Trust Project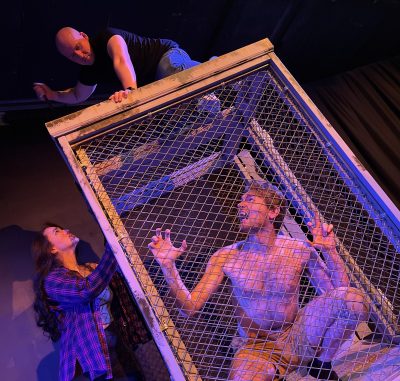 If you're looking for a bit of a different experience at the theater, Arc Stages in Pleasantville has a wild and fun production for you to see.
For the next two weekends starting Friday evening, it will present six performances of "Bat Boy: The Musical," a play that debuted in 1997 based on a supermarket tabloid story of a creature that was half bat and half human. The story was written by Keythe Farley and Brian Flemming and the play's music and lyrics were by Laurence O'Keefe.
Director Whitney Aronson said the "crazy horror-farce" has almost everything that a lover of musicals would want in a night at the theater – an enjoyable story, dancing, wonderful music from the five-piece ensemble led by Adam Spiegel and a serious message as well.
In the story, Bat Boy was discovered by a group of teenagers in a West Viriginia cave and was taken to a local veterinarian, who along with his wife, cares for him and teaches him to speak, read and act more human. But when a cow-killing plague befalls the rural town, trouble ensues.
"It's a lot of fun, and it doesn't take itself too seriously in that way," Aronson said. "But at the same time, at the heart of it, it's about really a very important subject that all of us experience, which is a need for fitting in and being a part of something, and it addresses other things as well."
Starring as Bat Boy is actor Payton Dell, a recent graduate of the American Music and Drama Academy in New York City where he now lives and has taken on professional roles. Dell called the role one of the most challenging he's played, in part because he's trying to portray a character that is half an animal. But it's also an enormously physical role.
There are times when Dell is hanging off an object and not only has to stay in character but get the strength to sing, he said.
"Yes, he's making weird noises and he's cocking his head around like he's a cockatoo and doing these weird physical things, but underneath he's trying to learn and understand being part of his community and love people and really enjoy being a human," he said.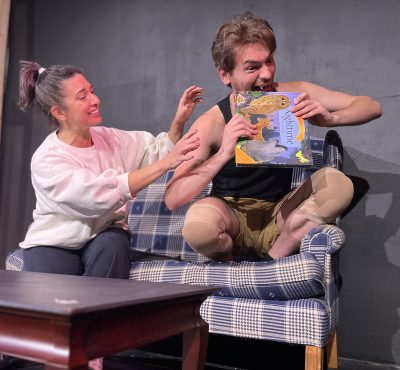 Another actor in the 13-member cast is Arnie Toback, who plays the sheriff of the small community. A veteran of Arc Stages' Community Stage who for years has performed in small theater and light operas, Toback said the Pleasantville theater group is a close-knit community and je loves performing with the group.
Coupled with a compelling story line, anyone in the audience will remember the evening, he said.
"I think anyone who comes, they will never forget they saw this show," Toback said. "They many not love it for other reasons, but they will never forget it."
Aronson said despite being a Community Stage production, the cast is full of impressive talent and is comprised of "an extraordinary group of talented people."
"There are several people in the cast who acted professionally in theater and you can feel it," she said. "It really shows, and as the director, it's just an absolute dream and a pleasure to work with such a talented group of people that are here because they love it and you love it."
The remainder of the cast includes Bob De Vivo, Juliana Giannasca, Shannon Harding, Anne-Marie Kavulla, Hannah Kluger, Graeme McEneany, Julia McCarthy, Liz Nolan, Alan Partelow-Zika, Chris Partelow-Zika and Jaelyn Pollock.
Friday night's opening performance is sold out, but there are still tickets available for Friday, Nov. 17, Saturdays, Nov. 11 and 18 and the two Sunday matinees, Nov. 12 and 19. The Friday and Saturday shows are at 8 p.m. and the Sunday shows start at 2 p.m. Tickets are $22 to $28.
Because "Bat Boy: The Musical" contains mature content, language and violence it is not intended for younger children.
For tickets and more information about Arc Stages, visit www.arcstages.org.