Arc Stages' 'Baby' Explores the Emotions of a Life-Altering Event
News Based on facts, either observed and verified directly by the reporter, or reported and verified from knowledgeable sources.
We are part of The Trust Project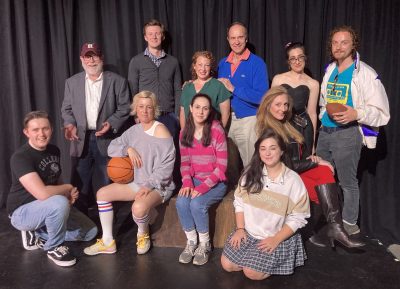 Great music, a fun and memorable storyline and a timeless message are some of the qualities that a theater patron often hopes to come away with when buying a ticket to a show.
Later this week, the Community Theater of Arc Stages in Pleasantville will be offering a production that promises to meet all of those criteria, and more. There will be four performances of "Baby," a show based on the book written by Sybille Pearson that made its appearance on Broadway 40 years ago.
With music by David Shire and lyrics by Richard Maltby Jr., it's the story of three couples of different ages and stages of their lives that are all expecting a child.
"This piece offers a lot of different things for different people because it's very funny, and it's great music, you'll go home singing, but it's also very moving and it grapples with a lot of real issues about having children and about being in a relationship at these certain times and what it means to fight for that relationship or to renew that relationship," said Stephanie Kovacs Cohen, the director of the production, who is also the artistic director of Arc Stages' Educational Stage. "There's a lot to it, but it's also funny."
"Baby" takes place over the nine-month gestation period for the couples – one of which is in college, another in their 30s and the oldest in their 40s. Whatever station in life you may have reached, theatergoers of almost any age will be able to connect in some fashion with the musical.
"Each couple really embodies something that people will relate to," said Hannah Kluger, who plays Pam, the wife and expectant mother of the middle couple.
Others in the cast include Richard Leonard Smith, who is performing on stage for the first time in about 25 years. An actor, Smith, who plays Alan, the husband of the oldest couple, left the theater when he and his wife started a family and moved to Cortlandt. Once he saw a poster for auditions, he jumped at the chance at the role. In the preparations for this weekend's performances Smith said "I'm loving every minute of it."
"First of all, I love the show," Smith said. "I've always been a huge fan of Maltby and Shire, the (musical) creators of the show. Their music just speaks to me, and they deal with emotions, they deal with the human condition, and that's one of the things I really appreciate about their writing."
In addition to the actors who have the six main roles, there is an eight-member ensemble cast that adds to the fun. One of those ensemble cast members is Claude Tusk, who saw both of his children go through the Educational Stage and remembers when Arc Stages was The Little Village Playhouse.
Tusk, who has also served as president of the board, said it's easy to understand why most audiences are able to appreciate what is really a timeless story.
"Most people, actually most of our potential audience, the prospect of having a first child is one of the most life-changing events you can imagine and that's largely – not entirely – largely what the show deals with," Tusk said.
It also addresses other issues like infertility and losing a child.
"Lots and lots of people have had children, but nobody knows anything about it until it happens," he added.
The production also features actors Kellie Allen, Alyrae Ayala, Julia Cowitt, Will Cowitt, Shannon Harding, Charlotte Harter, Richie Hunter, Danny Milkis, Miranda Miller, Peter Moriarty, Amy Morris, Allie Scherich and Laura Stelman Jaeger. The musical director is Adam Spiegel.
Performances will start this Thursday at 7 p.m. and continue on Friday and Saturday evenings at 8 p.m. There will also be a Saturday matinee at 2 p.m. Tickets are $28 for adults and $22 for students and seniors.
To purchase tickets or for more information about Arc Stages, call 914-747-6206 or visit www.arcstages.org.