Anti-Indian Point Activists Rally to Close Plant
On the second anniversary of the devastating tsunami and earthquake in Fukushima, Japan, several anti-nuclear energy groups and individuals gathered in Croton-on-Hudson Saturday to bring attention to the effects of radiation exposure.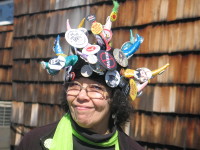 Two former U.S. Navy navigators who were aboard a ship to help in a rescue and humanitarian aid mission when nuclear reactors exploded in Japan spoke at the peace rally near the Croton Harmon Train Station about medical problems they developed they believe from the radiation. Maurice Enis said he was contaminated with radiation after retrieving an American flag.
"We were told we would not be in danger," he said. "I have a lump in my eyes, a lump in my thigh, a lump in my jaw. My hair is falling out. They had to take three layers of skin. It's scary because I'm only 25. I shouldn't be in this situation."
His fiancé, Jaime-Lee Plym, said she immediately developed gynecological issues, along with asthma. She noted neither she nor Enis have medical insurance since they were honorably discharged. "We didn't know about the radiation," Plym said.
Members of the Indian Point Safe Energy Coalition, the Indian Point Convergence, Hudson River Sloop Clearwater and others including Croton Mayor Leo Wiegman, stressed what happened in Japan could happen to the estimated 300,000 people who live within the 10-mile evacuation zone surrounding the Indian Point nuclear power plants in Buchanan.
Entergy has operated the plants for nearly 12 years, invested about $1 billion in their upkeep and is seeking a new 20- year license from the federal Nuclear Regulatory Commission.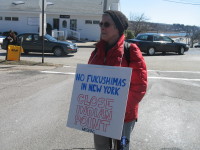 "What happened to them at Fukushima could happen to us," said Marilyn Elie, co-founder of the Citizens Awareness Network. "We are a circle that is growing. We don't need Indian Point."
Gary Shaw, a member of the Indian Point Safe Energy Coalition Leadership Council, disputed Entergy's claims that it supplies 25 percent of the electricity in the region."
"Indian Point has risks like no other nuclear plant. It never should have been built here to begin with," Shaw said. "You cannot overstate the risks of a disaster at Indian Point. We don't need it and we don't want it."
Richard Thomas, director of the New York Affordable Reliable Electricity Alliance, said for nine consecutive years Indian Point has earned the NRC's highest safety rating.
"For the past six years, Indian Point has undergone the most thorough license renewal review of any U.S. plant in history. Through the NRC's exhaustive inspections and in numerous independent studies, Indian Point repeatedly proves that it operates at the highest safety standards," Thomas said.
Following the rally, about 40 peace walkers trekked down Route 9A to the gates of Indian Point in Buchanan to quietly protest its existence.