Annual Italian Feast to Draw Thousands to Verplanck
We are part of The Trust Project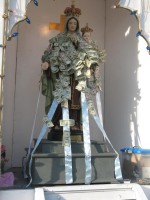 The aroma of sausage and peppers, zeppoles and other Italian favorites will be in the air for five days this week in Verplanck as the annual Our Lady of Mount Carmel Feast takes over Eighth Street.
The longest running Italian feast in the New York metropolitan area is celebrating its 91st year, starting on Wednesday, July 17 and running through Sunday, July 21. All the proceeds are returned to the community through donations and events, such as a picnic for veterans in the spring.
The feast, which attracts thousands of visitors, is the largest fundraiser for the Our Lady of Mount Carmel Society, a not-for-profit organization of about 135 members that was established in 1922 by a handful of Italian immigrants from Calabria, Italy. There is also an active Ladies Auxiliary with more than 30 members.
"We try to keep the tradition going as much as we can," said society President Eugene Capicotto, whose father ran the feast more than 60 years ago. "There are not many Italian feasts around anymore, but for us it's a tradition and people still enjoy themselves."
Capicotto noted he visited Italy last year with his nephew and had a chance to see how feasts are celebrated there and where his father and mother used to walk up a mountain with a donkey and set off fireworks.
"The feast over there is still about passion. They carry the statue six miles and the women walk barefoot," he said. "Over there if you don't get to mass on time you have to kneel outside. When I climbed up the mountain I thought of my father. I did a complete cycle of my life. I even shot fireworks off a bridge. It was wonderful."
One of the highlights of the feast in Verplanck is the procession following Sunday mass at St. Patrick's Church where a statue of Our Lady of Mount Carmel is carried through the streets and people attach dollar bills and ask for a special blessing. This year's procession will take place at 3 p.m.
Another staple is the spectacular fireworks show at 11 p.m. Sunday that always ends the feast with a bang. One of Capicotto's nephews, Anthony Capicotti, Jr., will be coordinating the display as he did last year in honor of his late father Anthony "Chubby" Capicotti, who was president of the Mount Carmel Society for 20 years.
Besides an array of food , drinks and desserts, the feast, open from 6 p.m. to midnight, will have carnival rides, games of chance, raffles and nightly entertainment. A disc jockey will spin favorite tunes Wednesday and Thursday nights, Over the Top band will perform on Friday, D.S.O. (Dirty Stay Out) on Saturday and Sugarush on Sunday.