Announcing the 35th Anniversary of Bear Classic Invitational
We are part of The Trust Project
On Saturday, October 6, 2012, an expected 1500 athletes and spectators will convene on the campus of Brewster High for a full day of competitive races amongst leading High School athletes – from Newtown, CT to Nyack, NY.  For more than three and a half decades, the campus has been the home for the annual "Bear Classic" – a 5K run for Varsity and Junior Varsity boys and girls.  All local residents are encouraged to attend this free event.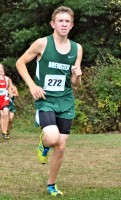 This year's meet will begin at 10:00 AM.  Varsity races begin at 1:20 PM.  Race listings will be available at  http://ny.milesplit.com/ and www.finishright.com.
"The Bear Classic is a much anticipated annual event in Putnam County, NY," according to parent volunteer Kathy Delfay.  "Athletic directors, coaches and students arrive early to set up tents, participate in warm ups, compete in challenging and competitive races, while socializing with peers in an upbeat, full day schedule.  All participants enjoy food, free entertainment, music, souvenirs and camaraderie with fellow spectators," she added.
Sanctioned by NY, NYC and neighboring states, the course is 90% grass & dirt and 10% crossing driveways & paths.
"We lost six of our top eight boy's runners to graduation last year from a team that won two sectional titles in the past three seasons," Coach Joe Scelia said. "Everyone thought since we lost all those guys that we would not be productive this year. That is false. I always believed in this new group and these kids are hungry and really put in a ton of work this summer.  I am very excited about this girl's group this year.  Like the boys, the girls have been training together all summer at the team's summer group runs. They are a close knit group.  It's been so much fun coaching this season."
Contact Patrice Lestrange Bedrosian at 845-800-4405 or via email at Patrice.bedrosian@gmail.com for Brewster Invite info.
Brewster Boys AKD 5K Results
Mike Delfay – freshman – 17:18 – 40th place
Erik De Los Rios – junior – 17:20 – 43rd place
Eric Fedio – sophomore – 17:32 – 51st place
Sam Bedrosian – senior – 17:40 – 57th place
Brian DeGaray – senior – 18:00 – 85th place
Jake Barbara – junior – 18:40 – 102nd place
Brewster ADK 5K Results
Ariana Bottalico – senior – 19:36 – 17th place
Jamie Maguire – sophomore – 20:13 – 35th place
Ariana Portante – sophomore – 20:30 – 42nd place
Dylan Scerri – sophomore – 20:36 – 46th place
Nina Jacobsen – sophomore – 21:23 – 66th place
Samantha Scerri – sophomore – 22:20 – 87th place
Caitlin Parise – sophomore – 22:31 – 90th place