Analytics Firm Makes Pitch to Help Mt. Kisco Revitalize Downtown
We are part of The Trust Project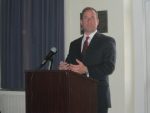 Mount Kisco officials are considering retaining an analytics firm to help them find ways to spur commercial development in the village's downtown business district that has been plagued by a rash of storefront vacancies.
The village board and the Mount Kisco Economic Development Council last Thursday met with Dennis Maher, director of sales for Buxton, a Fort Worth, Texas-based firm that provides solutions for clients in a variety of industries, including helping local governments devise ideas for downtown and economic revitalization, through the use of analytics.
No decision has been made whether to hire the company.
Maher said Buxton, a more than 20-year-old company with about 3,500 clients, helps pair local governments with various businesses. Its client base includes a wide assortment of corporate retailers as well as local governments in New Rochelle, Celina, Texas and Clark County, Ohio.
Maher said his company analyzes the spending habits of local residents to see what type of businesses they may patronize.
Buxton would also help Mount Kisco officials market the village to companies, Maher said. The firm could also provide marketing data and technical support to the village, Maher said.
Online shopping has become increasingly popular, which has challenged brick and mortar stores, but there are opportunities for the village to attract retail businesses, Maher said.
"Retail is very important," he said. "People still need that experience,"
The issue of revitalizing Mount Kisco's downtown has been one of the key challenges facing officials for more than a year. Last year, the village held two public meetings with local business owners and commercial landlords.
The village board is working on language for a Request for Proposal to hire a firm to help the village revise its Comprehensive Plan.
Economic Development Council member Judith Sage said commercial landlords bear some responsibility for the rampant downtown vacancies. Some of the landlords own as many as 30 properties and are unconcerned when they have multiple vacancies, she said. In some cases, commercial landlords hike rents significantly after a new business becomes successful, she said.
Sage said Mount Kisco has been a major shopping hub for northern Westchester, but Yorktown and other communities have generated many more retail opportunities for local shoppers that pulls business away from the village.
While Sage did not mention any specific landlords that are causing the vacancies, during one of last year's meetings regarding the downtown, Friedland Properties was cited as a prime culprit. A check of the company's website listed eight empty storefronts on South Moger Avenue or East Main Street.
Mayor Michael Cindrich said additional parking is needed in the village and small business owners should be more receptive toward having chain stores come to Mount Kisco, which could increase foot traffic.
The village also needs to move toward implementing transit oriented development, Cindrich said. Communities across the region are rezoning and building downtown housing for young adults and even empty nesters who want to be within walking distance of shopping, restaurants and mass transportation.
John Bainlardi, vice president of the development firm Wilder Balter Partners, said the village's downtown infrastructure must be upgraded to attract new businesses.
Two local business owners expressed their opinions on how to bring new businesses to downtown.
Jeremy Nevins, president of the Siegel Bros. Marketplace and Siegel Bros. Wine & Spirits, which opened recently in the village, said Mount Kisco is patronized by village residents as well as those from many of the neighboring communities.
The village could encourage new development by providing more free parking downtown, particularly on weekends, Nevins said.
"Parking is number one," said Nevins who would like to work with the village to revise its Comprehensive Plan.
Currently, there is free parking every Thursday in the village-owned Shoppers Park lot. Signs should be placed in that lot to enable them to take advantage of the free parking, he said.
Eric Sussman, co-owner of Yogi's Paw and Evolution with his wife, Leslie Bijoux, said the village should take steps to ensure mom and pop businesses are not forced out.
A major initiative the village should explore is convincing a local college to open a satellite campus or extensions in Mount Kisco, something that communities such as Peekskill have done, Sussman said. That would bring in large numbers of people from other communities who would spend money in the village.
Sussman also said hiring a firm such as Buxton to help attract new businesses would be a waste of taxpayers' dollars. Instead, village officials should talk with residents and business owners to gain ideas about how to revitalize the downtown, he said.