AG Schneiderman Rips President Trump's Policies in White Plains
We are part of The Trust Project
L to R: BCW Board Chairman Anthony Justic; BCW President and CEO Marsha Gordon; New York State Attorney General Eric Schneiderman; BCW Executive Board member George Lence, Nicholas & Lence Communications and BCW Vice President and COO John Ravitz.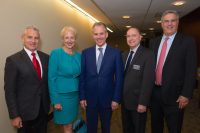 By Anna Young
Attorney General Eric Schneiderman appeared before the Westchester Business Council last week where he criticized the recent policies put forth by President Donald Trump and reaffirmed his mission to protect New Yorkers rights.
During the first night of the Business Council of Westchester's Political Leadership Series on Thursday night, Schneiderman discussed the importance of preserving New York values, stating that his office has been busy trying to protect residents from bad policies since January.
"The relationship we develop with leaders in the business community have been critical in our efforts to defend New York and stand up for New York values in the face of some very dangerous and potentially very damaging policy initiatives coming out of the volcano of bad ideas that has become our nation's capital," Schneiderman said. "I view it as my job to protect New Yorkers and to stand up to the federal government whenever it does something that could hurt the people I represent."
Schneiderman added that his position is not related to any animus or desire to go after Trump, stating that his office also challenged the Obama Administration on several issues.
Throughout his lecture, Schneiderman explained how the Trump administration has united several attorneys general throughout the country to file lawsuits against several policies, including the travel ban.
Earlier this year, Trump signed a controversial executive order restricting travel by refugees and immigrants from seven Muslim majority countries.
"The ban clearly violated our states rich history as a haven for immigrants and refugees and it was also constitutionally defective," he said, adding that the ban would have a devastating effect on the state's economy.
Schneiderman said the coalition has also worked to protect the Clean Power Plan, a set of rules regulating carbon dioxide emissions from existing fossil fuel-powered electricity plants, following Trump's decision to pull out of the Paris Climate Accord.
Schneiderman called Trump's decision shortsighted, stating that the consequences of climate change are becoming more and more frequent.
With Trump recently announcing his plan to end Deferred Action for Childhood Arrivals (DACA), Schneiderman said rescinding the program would cost the state $38 million over the next decade. The nearly 42,000 immigrants residing in New York could face deportation if they are unable to renew their DACA permit.
"The decision to rescind DACA is shortsighted, inhumane and potentially devastating to hundreds of thousands of immigrants and their families," Schneiderman said. "This is something I take very seriously and very personally. There is no good reason to shut this program down."
While Schneiderman said that he would continue to protect the values and rights of state residents, he urged local and state officials, leaders from the non-profit sector, and the business community to get involved and raise their voices when bad policies arise.
"Now is the time to speak up when policies are proposed that would hurt our people and hurt our state," Schneiderman said. "I am confident that we can do this."