Act of Kindness Day Held in Memory of Yorktown Officer
News Based on facts, either observed and verified directly by the reporter, or reported and verified from knowledgeable sources.
We are part of The Trust Project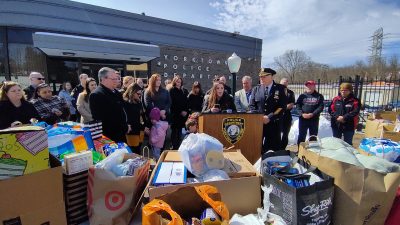 Yorktown Police Captain Kenneth Sgroi died January 2 from a sudden illness at the age of 37, but it's clear his spirit is alive in the community that he served for nearly 14 years.
On March 16, Yorktown Police and town officials delivered hundreds of dollars in checks, gift cards and goods donated from them and the public to two non-profit organizations to commemorate the first annual Captain Kenneth Sgroi Act of Kindness Day.
"I want to acknowledge the tremendous kindness that my family and I have been honored to receive," said Anne Sgroi, widow of Captain Sgroi, outside the Yorktown Police headquarters.
"While Kenny is no longer here, I know that he will live on in Yorktown Heights and I'm proud to keep his memory alive and to teach my children that kindness knows no bounds," she added.
Following Sgroi's death, the Yorktown Town Board passed a resolution recognizing March 16 annually as a day of kindness in memory of the father of two.
"What better way to honor a man who meant so much to us," said Yorktown Police Chief Robert Noble, citing Sgroi's friendship, work ethic and kindness. "I think up there Kenny would be thinking that we made too much of a fuss, but I know he'd be immensely proud that his brothers and sisters here at the Yorktown Police Department and his community rallied around him in this way and made this day happen."
The two organizations benefitting from the generosity of Yorktown are Hope's Door and United for the Troops.