Accordionists Invade W'chester This Week for Annual Festival
We are part of The Trust Project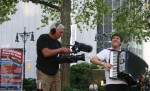 You don't have to travel very far to see one of the largest assemblages of accordion players and accordion music lovers this week.
The 76th annual American Accordionists Association Festival descends on Westchester County this Wednesday for a five-day engagement, showcasing the best the instrument and the musicians who play it have to offer.
Until Sunday, the festival will feature performances, workshops and competitions, many of which are open to the public, at the Double Tree by Hilton in Tarrytown. Some of the events are free, while others are accessible through a registration charge.
Festival co-coordinator Frank Busso said the association, the nation's largest and oldest accordion organization with several thousand members in its ranks, had considered coming to Westchester for its milestone anniversary last year but decided to hold it in Manhattan, where the group was founded in 1938.
While the event has been held throughout the country, this year the association returned to the New York area because of the accordion's popularity in and around Westchester over the generations.
"There have been so many teachers in the Westchester area throughout the years and there are still some excellent players there who are still playing today," said Busso, an accordion teacher who owns and operates a Staten Island accordion school and is the association's first vice president.
While some casual music observers may look upon the accordion as an instrument from a bygone era, there's been a resurgence in its popularity, Busso said. It has been seen and heard in radio and television commercials and has been used by a surprisingly large number of popular music artists, including Mumford and Sons, Paul Simon, Bruce Springsteen, Sheryl Crow and many others.
Busso said some of the accordion's popularity is that it reaches across a wide assortment of cultures and ethnic groups. In the United States, some of its biggest fans are not only in the polka capitals of Pennsylvania and the Midwest, but down in the Louisiana bayou with the Cajun-infused zydeco music.
It also has roots throughout Europe, among other regions, hitting a chord with descendants of immigrants of so many backgrounds.
"The accordion remains an integral part of our popular culture because it mirrors our ethnic heritage," said American Accordion Association President Linda Reed. "You can see and hear the instrument in every media."
While there aren't as many accordion teachers today, there are still plenty of younger accordion players. Busso performs with his two children at various engagements throughout the year and can be seen later this week at the festival.
The festival, which will begin with registration on Wednesday at 3:30 p.m. and exhibits opening at 5 p.m., will spotlight an array of noted accordionists performing wide genres of music, including jazz, pop, polka, rock, folk and more.
In addition to a diverse set of 10 workshops, there will be concerts, master classes and competitions for all levels in varied styles for adults and kids. Competition winners will receive honors, cash awards and scholarships.
Workshops, exhibits and concerts are scheduled for Thursday, Friday and Saturday from 9 a.m. to 5 p.m.
The Double Tree by Hilton is located at 455 S. Broadway in Tarrytown. For more information on the American Accordionists Association Festival, visit www.ameraccord.com.