News Based on facts, either observed and verified directly by the reporter, or reported and verified from knowledgeable sources.
Acclaimed Westchester Podcaster Addresses Issues of Hate, Immigrants
We are part of The Trust Project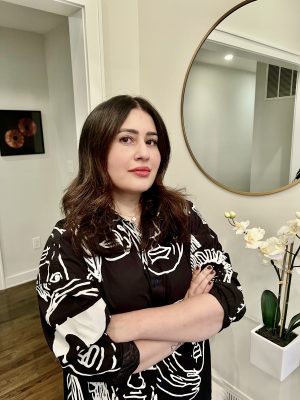 A listener can find discussion on almost any subject matter in today's vast landscape of podcasts.
If you're looking to get a perspective that is often left unexplored on two important and often weightier topics, it would be wise to give Saadia Khan's two programs a try.
Since late 2018, Khan has been producing the highly acclaimed podcast "Immigrantly," a weekly discussion about the immigrant experience in America in the 21st century. Topics such as identity, multiculturalism and viewing modern America through an immigrant's lens are addressed.
In January, Khan, a Pakistani immigrant who came to the U.S. in 2001, launched a second podcast that is called "Invisible Hate," where she and her co-host and co-producer Asad Butt, from the media company Rifelion, take a look at little-known or largely forgotten crimes that are often linked to hate incidents.
While the two broadcasts are on different subjects, there are similarities including bringing more obscure stories to light. They also sometimes deal with issues where people who are not part of the dominant group are marginalized.
America has had a long history of having a love-hate relationship with immigrants and those who are different, she said.
"If I say it's the political landscape in America, it will sound very cliché, but that was the impetus of 'Immigrantly,' and that is an extension of our content creation for 'Invisible Hate' as well," said Khan, a naturalized citizen who lives in Armonk with her family and has worked as a human rights activist for UN Women.
"What has changed the last four years is the normalization of otherness," Khan added. "Otherness was not as mainstreamed into American political and social discourse as it became after the 2016 elections, and I don't want to blame everything on the 2016 elections or Trump's presidency because there are a lot of other factors in American society."
The "Invisible Hate" podcast takes a look at why thousands of hate crimes are reported throughout the nation every year, but so few are prosecuted. In weekly episodes that range from 35 minutes to nearly an hour, Khan and Butt, delve into a different crime each podcast where race, religion or sexual orientation was a factor or is suspected of playing a role.
In the three months, since it launched, they have discussed the 1999 Los Angeles Jewish Community Center shooting by a white supremacist, the 2013 death of Georgia teen Kendrick Johnson who was found dead in a rolled-up wrestling mat at his high school and the murder of Charlie Howard, a 23-year-old gay man, in Bangor, Maine in 1984.
Since she immigrated, Khan said she has experienced the range of microaggressions that a Muslim woman might expect, which had a jarring effect on her, particularly after 9/11. There were multiple occasions that when others learned she was from Pakistan, they would ask if she was mistreated growing up or was allowed to go to school.
When one of her daughters was in sixth grade, she was called Queen of the Taliban by a classmate. Her children have spent their entire lives in the U.S. and at that time they didn't even know what the Taliban was.
Khan's stories are quite different from those of her father, an engineer who worked for a time in the U.S. in the 1970s. She grew up hearing largely positive reminiscences about how America was warm and welcoming and everyone is treated equally. He had wanted to stay but family obligations forced him to return to Pakistan.
"There is a lot of self-loathing that exists in the Muslim community, and I tell you this, I'm a privileged woman but at the same time I have a spiritual side, and I, for the longest time, would not discuss my spiritual side with people because I thought I would be judged because my religion is judged," Khan said.
It has been gradual, but over time Khan has learned ways to approach the slights and microaggressions. After her children were born, she became more invested in America, and how America sees her. That's when Khan went to graduate school at Columbia's Master's program in Human Rights Studies and worked with the Global Network of Women Peacebuilders, which worked with U.N.-affiliated organizations on various projects.
The podcasts have become part of Khan's personal journey and finding her way in a complicated America, where she has become increasingly comfortable identifying as an immigrant and a Muslim woman.
"After 'Immigrantly' and after 'Invisible Hate' I have been able to embrace my identity unapologetically, and that's an evolution that's happened from 2000 to 2023," Khan said.
To listen to Khan's podcasts, visit www.immigrantlypod.com and www.invisiblehatepodcast.com.
Correction: In the original posting of this article, it incorrectly stated that Saadia Khan worked for U.N.-affiliated organizations. She worked with the Global Network of Women Peacebuilders, which collaborated with U.N. entities. Also, Khan arrived in the United States in 2001. The Examiner regrets the errors.