Abzun Accuses Primary Opponent of Fraudulent Petition Signatures
We are part of The Trust Project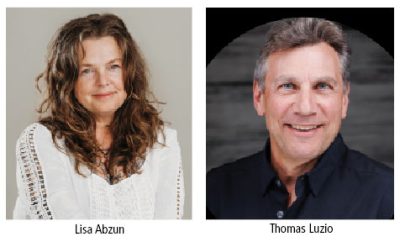 Controversy erupted last week in the Mount Kisco Democratic mayoral primary after current Deputy Mayor Lisa Abzun accused opponent Thomas Luzio of collecting multiple phony signatures on his nominating petition.
Last week, Abzun filed objections related to 82 of the signatures with at least 38 of those names appearing fraudulently on the document. She contended that the signatures in question were not signed by the individuals whose names appear on the petition.
However, by last Friday, the Westchester County Board of Elections threw out all of Abzun's objections on procedural grounds because they were postmarked one day after the Apr. 17 deadline for filing challenges.
On Monday, Abzun said she was still considering whether to file an Article 78 in state Supreme Court in hopes of forcing the Board of Elections to examine the issue again.
"I'm looking for the Board of Elections to address the issue of high irregularities in the petition. It's more than just whether his petition gets invalidated," Abzun said.
"What we're looking at is these are signatures that are not placed on the petition by the people who are purported to have signed it, and this is highly irregular and there's more than just one," she added.
Her attorney, George Hritz, said they hired White Plains-based private investigator Paula J. DesJardins, who in an affidavit to the Board of Elections stated that on Apr. 17 she visited six different addresses of village residents whose names appeared on Luzio's petition. All seven people, which includes a married couple, swore in the affidavit that was viewed by The Examiner that they had not signed the petition.
Hritz said that some of the pages containing the challenged signatures were signed by Mount Kisco Democratic Chairman William Serratore or his son Carmelo.
"I'm not really interested in intraparty fights, but I'm interested in corruption," Hritz said. "I don't care if it's material or not, forging a signature is outrageous to me. It's a corruption of the electoral process."
When reached last week, Luzio issued a statement about his opponent's accusations.
"As a state prosecutor, I long ago learned not to comment on unproven allegations," Luzio stated. "The Board of Elections will determine whether or not there were any irregularities or mistakes, as well as their relevance, if any. I look forward to the May 31 debate with Ms. Cerbone-Abzun on the issues that matter most to Mount Kisco residents."
When reached again on Monday, Luzio said he is confident that the Board of Elections would do their work. He declined to comment on the possibility of Abzun taking legal action.
"You can't comment on things until they're things, he said. "It's not a thing."
Multiple messages left for Serratore since last Thursday were not returned.
Luzio had collected 283 signatures on his petition that he had submitted to the Board of Elections. He would need 139 valid signatures to remain on the ballot.
But Abzun said whether or not Luzio is on the ballot is secondary compared to whether there was fraud perpetrated on the public.
Over the weekend she said three residents reached out to her, having learned of the brewing controversy. Two of them were not approached by DesJardins.
"The fact that there are so many, that they go to the meat of my objections, they really need to take a serious look," Abzun said of the Board of Elections. "This goes to the entire standard of fairness in an election and integrity of the process."
Luzio, a relative newcomer to the village, received the endorsement of the village's Democratic Committee in February. Abzun, who is in her first full term on the Village Board after having been appointed to an unexpired term, has received the support of outgoing Mayor Gina Picinich.
In February, Serratore said a sizable portion of the committee gave the nod to Luzio because he is viewed as a fresh voice.
"I hate primaries. I really don't want to preside over one," Serratore said at the time. "But as I said to the committee and anyone else that I've spoken to, this is big-tent Democratic democracy, a lot of voices, lots of opinion."
The winner of the primary will run uncontested in November unless an independent candidate surfaces by the late May petition submission deadline.