Absentee Ballots, Likely Litigation Next in North Castle Supervisor's Race
News Based on facts, either observed and verified directly by the reporter, or reported and verified from knowledgeable sources.
We are part of The Trust Project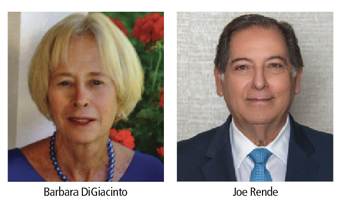 The virtually deadlocked North Castle supervisor's race is likely heading to state Supreme Court this week after Democrat Joe Rende charged that at least five absentee ballots were submitted by voters who no longer live in town.
Tallies from early voting and last Tuesday's machine totals had Rende with a one-vote lead over Republican Councilwoman Barbara DiGiacinto, 1,569-1,568.
"There are several ballots that appear to be fraudulent, several of these absentee ballots, and we'll be before a (state Supreme Court) judge on Tuesday and there haven't been any additional votes added yet," Rende said of his decision to litigate the matter.
Absentee ballots may still arrive at the Westchester County Board of Elections in White Plains through Tuesday as long as they were postmarked by Nov. 7. As of late last Tuesday night, it was known that the Board of Elections had sent out 120 absentee ballots to North Castle voters, and at that time 52 had been returned.
Canvassing of the machines has been scheduled for this Thursday.
DiGiacinto said he she's a believer in process and trusts that the Board of Elections will do its job in reviewing the paper ballots and accurately record the votes. She said it is a candidate's right to file a Freedom of Information Law (FOIL) request to see any absentee ballots and pursue the legal means necessary to ensure the correct tallying of votes.
However, DiGiacinto took a dim view of Rende's actions threatening litigation, especially since absentee ballots have yet to be counted.
"In my opinion, I think it's unfortunate that a candidate wishes to suppress votes," DiGiacinto said. "Basically, this is up to the Board of Elections to decide. It is not certainly my decision or anyone else but the Board of Elections to decide the validity of any ballot."
In North Castle's first contested supervisor's race in a decade, and outgoing Democratic Supervisor Michael Schiliro having endorsed DiGiacinto and her running mates, Larry Ruisi and Mel Orellana, it was difficult to get a clear read on the election beforehand.
DiGiacinto said that there are now twice as many voters registered as Democrats in town as there are Republicans, which made her race challenging, but Schiliro's endorsement may have helped close the gap.
"I certainly never anticipated it to be this close," DiGiacinto said. "I don't think anyone did. But I didn't think it was going to be a runaway, just in terms of the number of registered Democrats."
"We did a good job and actually the supervisor was very courageous in his endorsement of me and Larry and Mel," she added.
The counting of absentee ballots and recanvassing will also help to officially determine the second seat up for election in the four-candidate race. Two-term Democratic Councilman Jose Berra was safely in first place with 1,616 votes, 126 ahead of Ruisi, the third-place finisher.
However, Berra's running mate, Councilman Saleem Hussain (1,524 votes), who was in his first re-election bid, held just a 34-vote advantage over Ruisi. Orellana was fourth with 1,447, according to totals from the Board of Elections.
Hussain said the strong turnout for an off-year election and the engagement of the voters was impressive. In fact, one 18-year-old first-time voter contacted him directly to ask him where he stood on several issues, he said.
Also, each candidate's skills and talents, which were different, made for a compelling contest, but Hussain hoped voters saw the care and seriousness he puts into each decision.
"I think that most see that I always work to try to bring alignment to a decision, backed with a lot of logic and reasoning, at least in a way that makes sense to them, and I feel that people appreciated that," he said.
Berra also said the voters took the time to consider each candidate's record and was pleased that his message appeared to receive support.
"I'm not surprised (at the results) in the sense that I think the residents listen carefully to my message about making decisions on what's best for the town and good government," Berra said.
DiGiacinto said she was satisfied that she and her running mates ran a campaign that had a positive message that refrained from name-calling.
Rende said his race was likely close because DiGiacinto has greater name recognition in town. She's been a lifelong town resident and has been on the Town Board the past 10 years.
Regardless of the outcome of the supervisor's race, DiGiacinto will remain on the board for the next two years either leading the town or staying in her council seat.