Abinanti Fails in Final Attempt to Knock Challenger Off Ballot
We are part of The Trust Project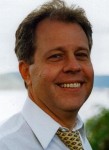 Assemblyman Thomas Abinanti's last-ditch effort to contest his opponent's Republican and Conservative party petitions was unsuccessful last week, the final legal recourse available to him to knock the challenger off the ballot for the November election.
Abinanti (D-Pleasantville) went to the Court of Appeals, the state's highest court, in White Plains on Aug. 27 to argue that 92nd Assembly District challenger Michael Duffy's two petitions submitted in July were improper because the identity of the candidate was unclear. Duffy filed the petitions identifying himself simply as Mike Duffy even though his son, who has the same name but a different middle initial, is registered to vote at the same Valhalla address as the elder Duffy, the assemblyman argued.
He contended that a candidate should file a petition with the same name name with which they are registered to vote, something that was more important in this instance because of the potential for confusion.
The court, which split into small groups of justices to share the workload of hearing 18 cases on the docket, including his request, made no rulings on any of them before adjourning, probably because of the approaching Labor Day weekend, Abinanti said.
He said Friday he was disappointed at the court denying his motion to appeal but that it is now time to focus on the campaign.
"I look forward to the campaign and explaining my record of advocating for the suburban communities, being pro-environment, pro-reasonable gun control and pro-education," said Abinanti, who is seeking re-election for a third term to the Assembly. "I'm proud of my record and I want to continue doing what I'm doing."
Duffy has said the court's decision to deny Abinanti's motion and uphold state Supreme Court and Appellate Division rulings from earlier this summer was proper because there was no intention on his part to deceive or mislead the public.
"You never know what's going to happen when you go to court but I was pretty confident," he said.
Duffy, a criminal defense attorney, had previously explained that he chose to use Mike Duffy instead of his full name because that is how he is known to most people.
The challenger is a decided underdog in a district that has been solidly Democratic for decades. Abinanti won easily in 2010 and ran uncontested two years ago. He succeeded Assemblyman Richard Brodsky, a fixture in Albany for 28 years.
The 92nd Assembly District includes Mount Pleasant and Greenburgh as well as the river communities of Tarrytown, Irvington, Dobbs Ferry and Hastings-on-Hudson.