A Heartfelt Thank You Note to Somers Grid Boss Tony DeMatteo
Fifty-Two Years, 7 Sectional Titles, 360 Wins Later, Coach D Calls it a Career
By Ray Gallagher, Examiner Sports Editor @Directrays
Thanks Coach, D! Thank you, Tony DeMatteo, for 52 years of football grandeur, for two state titles at Roosevelt (1996) and Somers (2016), the seven Section 1 titles (between 1995-2021, including the 2021 co-title), the 360 career wins and the reclamation project you brought to the Somers football program back in 2000 before announcing your retirement last Thursday. Lives were forever changed the day Somers High hired you.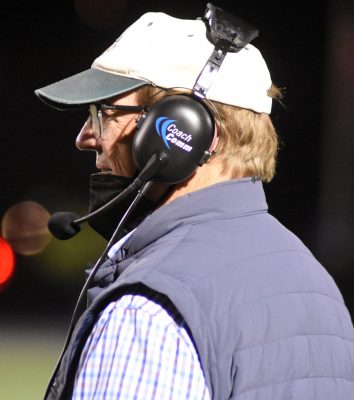 Thanks for the street cred you gave me as an aspiring cub reporter. Back when you and your buddy — Yorktown Coach Ron Santavicca — embraced me on football Fridays in the wee '90s, I knew I had succeeded in my field. I knew that once I had the respect of the Vince Lombardi of Section 1, I had been accepted.
But I wasn't the only one to feel that way; everybody that ever played for DeMatteo feels the same. When I asked you about why you would retire just five wins shy of the 365 victories needed to set the all-time NYS record for career coaching wins, you told me, "That number doesn't matter to me. Multiply that number by three and that's the number of kids I feel I've affected in my lifetime, and that number is more important to me."
To which I replied: "Three? Try 20!"
So 365 x 20 = 7,300 student athletes, which is a somewhat more appropriate number because it wasn't just his football players DeMatteo affected in a positive manner: That $hi+ was infectious! And it spread throughout the Somers community and spilled on over into Mahopac and Yorktown. Sorry 'bout the cuss word, there, but there's no better way to explain the situation Coach DeMatteo has created at Somers, a contagious, morale-building spirit that spawned @TuskerNation.
Most 78-year-old coaches have lost their fastball by their late 60s. Kids tend to tune out the elderly at some point (unless they have a Hallmark card filled with birthday loot), but this DeMatteo cat, born and raised in Yonkers while attending Stepinac High and Rhode Island University, could still fire that speedball by you while pushing 80.
"Not only was he the best coach, but also the most loving, inspiring, intuitive and caring human I've ever met," said former Somers QB Jeff Weiner, a key member of the 2000 title-winning Tuskers. "I love him so much and I'm so thankful for the countless talks we've had over the years that helped shape me into the person I am today and the person I will be tomorrow."
Weiner's words are merely an echo chamber for thousands of impressionable youngsters DeMatteo molded into men, and coaches into mentors. The DeMatteo coaching tree is like a redwood forest risen across Section 1: He's had more than three dozen of his former assistants and players go on to become inspiring head coaches, including great ones like Lou DiRienzo (Lincoln, New Rochelle, Iona Prep), John Castellano (Nyack, Poughkeepsie, Westlake), Jimmy Clark (John Jay-Cross River), Bill Tribou (Horace Greeley) and Santavicca (Yorktown).
His current staff is loaded with talent, including his son, Anthony Jr., who just might have what it takes to walk in his old man's shoes should Somers A.D. Roman Catalino rubber-stamp what most expect, another DeMatteo continuing the Somers tradition forged by Tony D.
Every summer, for 52 years, he dusted off the playbook of life and taught lessons in humanity and humility. Sure, the repetitious dives and waggles were sprinkled in time and time again in that Wing-T offense he made his bones on, but it was the way DeMatteo carried himself, the buttons he pushed, the tough love he served when necessary, the way others looked to him for answers in trying times, the way others emulated him and snuck a learned peak when things went right, as it often did, that mattered most.
"Coach DeMatteo is the epitome of a pinnacle leader," said 2016 All-NYS stud lineman Nick Gargiulo, now playing at Yale. "His impact on the Somers community is immeasurable.
It was never about winning. It was about developing future leaders and creating an environment where everyone is valued. Coach DeMatteo built a culture of excellence over his career and allowed his players to be a part of it. I'm forever grateful that I had the opportunity to play for such a great coach, and I certainly wouldn't be where I am today without him."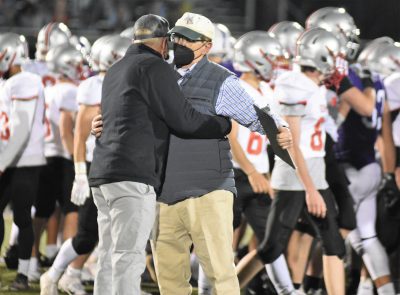 The 360 victories were just icing on the cake he baked, whether it was an inner-city slice of pie he dished out for 30 years and 208 wins at Yonkers-based Roosevelt High, or an upper-crust pastry served for 22 years and 152 triumphs in Somers… every bit of it icing! Because what mattered most was the soulful delivery that touched the hearts of thousands of student athletes — from astronauts to doctors — thousands of families and just about everybody DeMatteo connected with, including the 2020-21 Tuskers, which were recently crowned Section 1 Class A co-champions after a 17-14 win over John Jay CR.
DeMatteo suspected this year's team as having the potential similar to past title winners, but the COVID-19 pandemic canceled the state tournament, pushed the season from September to March and shortened it to just six games. Fittingly, Somers won all six, outscoring opponents 176-29, and might have had the potential to set DeMatteo up for the record-breaking win under normal circumstances. Instead, the abbreviated 6-0 season left DeMatteo with a career record of 360-115-4.
"Don't worry about winning and losing, win more than you lose, but help people along the way, because it's the greatest feeling in the world," DeMatteo said. "People have been very good to me and my family, so I'm simply returning the favor, doing what I can to make a favorable impression.
"Football has been very good to me, so it was an emotional decision," DeMatteo admitted, "but I'm done. I'm going to enjoy life now, with my wife and my family, who I love dearly. I've accomplished just about everything I could accomplish. I want to go and see the grandkids play and just be grandpa now, so I won't be joining another staff or anything like that."
The last meaningful thing Tony DeMatteo ever did while walking off a football field as a Section 1 grid coach was hug his loving wife, Patti, and, yeah, that gives them both all the street cred they deserve. It's time to fully commit to being the splendid father you've always been, the grandpa those youngins adore and the superb great-grandpa you have the potential to be… you've earned every bit of it, sir. Go ahead, splurge, grab the best lawn chair on the market, kick back and soak it all in #NewAdventuresAwait.