A Gift of Life for a Father
We are part of The Trust Project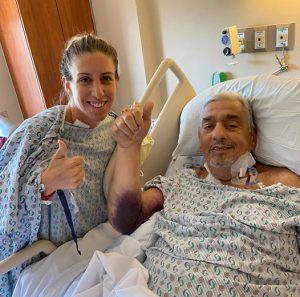 Daughter Donates Liver for Dad on His Birthday
The relationship between a daughter and a father has been described by some as an inexplicable magic all its own.
Kyla Palombini, 40, has shared that type of closeness with her dad, Charles Palombini, throughout their lifetimes as she recently wrote in a heartfelt Facebook post where she called her "Popsie" her "idol" and her "mentor."
"Kyla and dad have a very special bond. Always did," said Melissa Palombini, 43, the oldest daughter of Charles and Joanne Palombini, longtime residents of Montrose. "They are extremely close. They did everything together."
On June 8, Charles' 71st birthday, Kyla and her father were in nearby rooms at the University of Pittsburgh Medical Center as Kyla donated part of her liver to her ailing dad, who three-and-a-half years ago was diagnosed with non-alcoholic cirrhosis of the liver.
The nine-hour surgery (four for Kyla) was a hopeful outcome but certainly not anything guaranteed back in January when Charles, retired president of Kobrand Corporation who was involved in Cortlandt politics in the 1980s and 1990s, was informed he needed a liver transplant.
Charles was placed on a cadaveric transplant list in a multi-state region but since his condition wasn't considered as critical as others he wasn't near the top. At the same time, his family noticed his health was rapidly deteriorating.
"That's when we said we have to look elsewhere," Melissa said. "He was just going to get sicker. He would have died before he got a cadaver liver."
During her research, Melissa discovered a living donor program in Pittsburgh. About 6,000 living donor transplants are performed in the United States each year.
In February, Melissa, a married mother of three, and Kyla, who is single, approached their parents about them potentially donating parts of their liver to their father if they were a match. Their offer was not warmly embraced.
"We had multiple conversations. Dad was highly against it," Melissa said. "We knew something had to be done. Finally, near the end of March he reluctantly agreed for us to get tested."
Kyla, an accomplished gymnast and fitness enthusiast who is in the Hendrick Hudson High School Sports Hall of Fame, was tested and on May 14 learned she was a match. (Melissa was on standby in case Kyla was not a match).
"I burst into tears of happiness and relief. I wanted to be the one to do this for my dad," Kyla said.
"He didn't want Kyla to be a donor because he said he's supposed to take care of her, not the other way around," Melissa said. "That was very big for him. He told her every single day if you change your mind it's okay. She said I'm going to do this. She never wavered. She's one of the most selfless people I know. It was all about dad. She wasn't going to let anything happen to him."
On Saturday, Kyla and Charles were able to reunite for the first time since the operation. Kyla told her dad, "We did it!" Charles simply replied, "Thank you."
"It's been emotionally draining. It's been a rollercoaster ride," said Melissa, who drove Kyla to Pittsburgh and has been with her family every step of the way. "We knew it would be okay. We knew they would be in good hands. I can't believe it's done. My dad is alive and Kyla is fine."
Kyla has been released from the hospital, while Charles is scheduled to spend seven to 14 days in recovery. He will be staying in Pittsburgh in family housing provided by the hospital for a month so doctors can closely monitor his recuperation.
Melissa said his father, who owns thoroughbred horses and was checking out some races online a few days after the surgery, is hopeful of playing golf this summer.
She emphasized the Palombini family was grateful for all of the support and love they have received from family and friends.
"All of our family and friends have been so supportive. Just getting all of the messages have made it so much easier, just knowing that people care," she said. "It's been wonderful all the support and energy from our town."
Noting about 10 to 12 people had offered to get tested to see if they were a match prior to Kyla learning she matched perfectly, Melissa concluded by saying, "Everyone should consider being a living donor because it could save someone's life."