A Cut Above: Italian-born Yorktown barber prepares to retire after 46 years
We are part of The Trust Project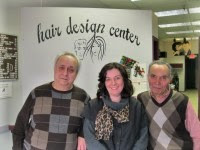 A local barber at the Hair Design Center in Yorktown, Osvaldo (Aldo) Benigni, 71, is retiring after 46 years. We caught up with Benigni on a break between haircuts as he reflected on life as a barber, his plans for retirement, and living the American Dream.

When exactly are you retiring?
Benigni: Ah, that is a good question! It could be any time from now to maybe one weekend next month. It's in the hands of the lawyer.
How long have you been working as a barber?
Benigni: Since I was a 16. My brother, Luigi, who is seven years older, and I opened Hair Design Center 46 years ago.
What got you interested in being a barber?
Benigni: In Italy, you have to learn a trade of some sort to come over here and start working, like being a tailor or a barber. We came over here as everyone else does.
Where in Italy are you from?
Benigni: A very small town called Ripacandida, near Naples. There's nothing to do there, so when people reach the age of 17, or 18, they try to leave to have a better life somewhere else. They go to Germany, England, Australia, America — everywhere.
We moved to England first and lived and worked in London for a few years, in Soho, not too far from Piccadilly Circus. But then the prices of everything began to skyrocket — no matter how much money we were making, it was not enough. So it was a good time to leave England and come here to New York, where some of our siblings had already relocated.
Was it a big culture shock coming here?
Benigni: It was a huge shock. Everything here is quick, quick, quick — rush, rush, rush. In Europe, especially in Italy, everything is so calm and relaxed. You work until 12 o'clock, go out for lunch for a few hours, then come back at 3 o'clock and work for a couple more hours and then call it a day (laughs). So it was very hard to get used to. But once you get used to life in America, you wouldn't trade it for anything in the world.
What's your favorite part about your job?
Benigni: In this line of work, one of the most beautiful things is you get to meet so many different kinds of people — different backgrounds, ages, races, and everything — in a way you might not in other jobs. I love the social aspect of it all. After all of these years, I have made some strong connections and friendships with some great people. I've had a good run over here.
Who cuts your hair?
Benigni: My brother. We cut each other's hair. After all this time, we know exactly what each other likes.
What brought you to the decision to retire now?
Benigni: Well, I have a little bit of a health issue. And my children have pushed me. They've been saying I've worked very hard all these years, and so now I think it's time to quit and enjoy myself.
Is your brother Luigi still working as a barber, or is he retiring, too?
Benigni: No, he's going to buy me out, continue working, and take over [my clients].
So you're retiring to no work while your brother is going to be doing double work?
Benigni: It's okay; he's the older brother, so he can handle it (laughs). He plans to pass the business along to his children — his daughter is a beautician, and his son is a barber.
What do you enjoy doing in your downtime — any hobbies?
Benigni: Sometimes, I play the stock market a little bit, but otherwise, I enjoy relaxing and doing nothing (laughs). And I have two beautiful grandchildren to spend time with.
What are you going to miss the most about your work?
Benigni: My customers, and socializing with them. But don't worry. I'll be back here again. I'm not gonna disappear. Besides, I'm going to need to visit Luigi to get my hair cut.
What aren't you going to miss?
Benigni: Honestly, the trip to work each day. We live in Dutchess, so I come down and back on the Taconic Parkway each day. The Taconic has become like the Indy 500 — I can't stand it anymore.
What are your plans after you retire?
Benigni: I'm gonna travel a lot. I'm going to Italy with my family, and then to England for a bit. After that, I have some other plans — we'll see how they work out. But I'm in no rush — the good thing about retirement is that it's Sunday every day.