News Based on facts, either observed and verified directly by the reporter, or reported and verified from knowledgeable sources.
A Beloved Mahopac Store Says Goodbye to its Loyal Customers and Community
We are part of The Trust Project
For a business built around special occasions, last Friday was a sad one for Cardsmart. A staple of the Mahopac area for many years, including the past six at its current location, the beloved card and gift store closed its doors for good on February 17. We spoke with owner John Castellano about the store's history and evolution, how it managed to successfully fly against the headwinds of myriad competitive challenges, and its impact on local residents and the community.
How did you become a card and gift store owner?
My late wife worked at the store, and I offered to purchase it when the former owners were thinking of closing it.
What's your personal and professional background? Any retail experience prior to owning the store?
I was born and raised in the Bronx, and I live right here in Mahopac. I currently work for a printing company — so the store was both a sideline and an investment for me.
What were your goals/plan for the store when you took it over?
We very much wanted to run it as a mom-and-pop shop and differentiate ourselves from the chain stores as much as possible.
How did things go when you took over the store? Did it meet your business expectations?
Oh, yes. We held grand openings at both our previous location and our current location when we moved. The community really came out and supported us, and we've enjoyed a very loyal following of regular customers over the years. They're like family to us.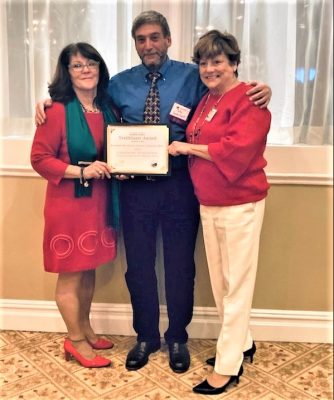 How did the business evolve or change over time?
Necessity forced us to constantly reinvent ourselves to remain competitive — first against the chains like CVS and Walgreens, and more recently, Amazon, which has been killing us.
We took on merchandise from local artisans, which is not done in most stores. So, we had locally produced goods in here, jewelry, t-shirts, mugs, and other gift items, giving those makers the opportunity to put their goods out somewhere in the community on an ongoing basis. In fact, we'd held a craft fair at the store every summer so that all of our customers could meet the local artisans and see who they're buying their stuff from and realize they're not buying mass-produced stuff pumped out of China by a big corporation the way you'd find at a chain.
Another issue has simply been how the world has changed. I can tell you we have barely sold a pack of invitations for three years because everybody sends e-vites now, and that hurts. And then young people today don't buy greeting cards. It's a shame because they're missing out on that tactile feeling when your grandma sends you a card with $5 in it. It's become a lost art.
When you get your birthday card, you put it on your dresser for two weeks, or you put it on your mantel — you show it off, and you are proud of it, and you realize somebody thought about you. But that's gone.
The store has enjoyed a very loyal following among its customers. What do you attribute that to?
Our motto here every day was to give the best value to a customer, be as kind as you can be, and make their day as pleasant as possible. We even won the Putnam County Award for Best Customer Service for a store. And our staff has been so integral to that. We've always instilled the importance of being kind and respectful and to love your customers. And any of our employees who weren't that way, they simply didn't last.
What are you going to miss the most?
Without a doubt, our customers. They have truly been a family to all of us. You're serving your neighborhood, and you actually become friends with these people. When they die, you're devastated, and when they come in to tell you that their wife died, you're devastated. I have customers that can no longer walk or leave their homes, so we deliver their cards to them. We have people who come in, and they're short a dollar. We go, yeah, don't worry about it. You'll pay us later — and they do. I've never gone to CVS and said, "I'm short two dollars. Can I pay you next week?"
And that loyalty has been reciprocated. Just before COVID hit, we had just closed on a $10,000 order for chocolate Easter bunnies. And we thought, oh my God, we're gonna be eating chocolate forever! But after doing some marketing on Facebook and online, our customers turned out to buy them, and we delivered everybody's chocolate bunnies to their homes in time for Easter. So, we didn't have to eat any of them — except for the ones with broken ears!