News Based on facts, either observed and verified directly by the reporter, or reported and verified from knowledgeable sources.
$94K Raised for Yorktown Family That Lost Home in Fire
We are part of The Trust Project
More than $94,000 has been pledged to assist a family of six whose home in Mohegan Lake was destroyed by a fire in late February.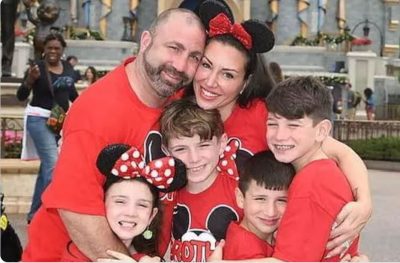 Karen Gundelach started a GoFundMe account for the Palmiotto family a day after the Feb. 25 blaze that started about 7:25 p.m. on Mohegan Ave. and more than 950 individuals have made donations to help them deal with the tragedy.
Mark and Erica Palmiotto and their four children escaped injury, as did their cat Gracie. Their dog, Rocky, however, is in critical but stable condition.
"If you know Mark and Erica, you know they are the most giving, generous people that will do anything for anyone. They are a staple in their community and are front and center for their children and are those avid sports parents, traveling and coaching. They will give you the shirt off of their back, whether you're a friend or a stranger," Gundeleach stated.
"They are the most kind, loving and welcoming family you will ever meet. If you have ever been in their home, you know and feel the joy and love that fills it. They are the family that hosts every holiday, throws epic birthday parties and welcomes everyone. If you know them, you know what I mean by you come as a friend, and leave as a member of their family," she added.
Erica Palmiotto expressed her thanks to everyone who has offered a lending hand and support.
"First, I want to say how extremely lucky we are to be alive and well. We are so incredibly humbled by the community that has come together both near and far to help us during this devastating time of need," she stated. "On behalf of Mark and our children, we just want to send out a heartfelt THANK YOU. Although those words are truly not enough to explain our sentiments… we want to acknowledge the outpouring of support we have received from those near and dear to us and perfect strangers too."
"From our friends opening their home to us without hesitation to the clothes for our children to the go fund me to dropping off gift cards and sending things to us from Amazon and Walmart etc… words truly cannot express just how thankful we are," she continued. "From a family who is always ready to welcome anyone with open arms, it is not easy to accept help from anyone… we are the ones who love to help. We never thought we would be in a position like this and truly, it is very difficult for us to accept all of these wonderful thoughts and gifts from all of you."
"I want to answer each and every one of you who have sent messages and texts and I'm sorry if I haven't yet. Sending our love back to all of you," she added. "We are truly blessed and so touched by all of you."