2020 Top Moments & Leaders of the Pack

By Ray Gallagher
Examiner Sports Editor
@Directrays
It was an unconscionable year, a year most of us would rather put in the rear-view mirror and never see again. That said, our local athletes lifted the lid on some of the most legit accomplishments before, during and after the coronavirus pandemic, an outbreak that will forever stain 2020.
Doing a 2020 year in review piece — minus a cancelled spring season — is like the Beatles riffing 'The End' without Lennon. It's worth a read but it won't measure up to expectations. Like Steph without Clay, like Kobe with no Shaque, like Spongebob with no Patrick.
The spring season is when we usually let the cats out of the bag in this neck of the woods; when Yorktown and Lakeland/Panas flex its lacrosse muscle up north; when the Evan Berta and Joey Vetrano-led Lakeland Hornets were poised to three-peat as Class A sectional baseball champions for the first time ever; when Class AA Mahopac had its sights set on Notre Dame-bound pitcher Shannon Becker delivering the program's first sectional title; when boys' lax Coach Al Meola's Briarcliff Class B Bears were set to punish the wannabe's throughout NYS.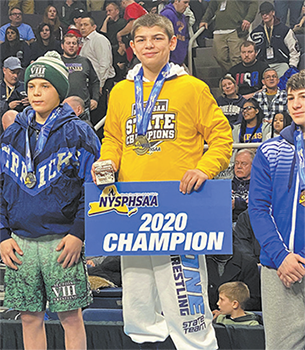 There was so much damage to be done in the spring of 2020 until COVID-19 was unleashed, but through dogged resolve we managed a fall season to accompany a winter campaign that was cut short in early March when our political leaders told us "two weeks to flatten the curve" was all it would take to cover our issues.
We now know that wasn't the case but administrators and athletic directors worked their tails off to ensure a regionalized fall season came to fruition. There were some incredible performances before the pandemic hit home, but perhaps the finest individual performance came from a Carmel kid named P.J. Duke. who, as just a seventh-grader, became New York's youngest large-school division state champion last February. At all of 99 pounds, Duke emerged undefeated and barely scored upon in a rookie season that included a Section 1 championship, a title at the prestigious Eastern States Classic and a state crown. It was unlike anything we'd ever seen before because it actually had never happened. We'll just go ahead and label this the individual performance of the year, if not the decade: a 49-0 record without allowing a single point scored against him in the Section 1 and NYSPHSAA tournaments.
Duke's rookie season at Carmel, the finest in school history, will be his last, though, as he transferred to Section 9's Minisink Valley to continue his career.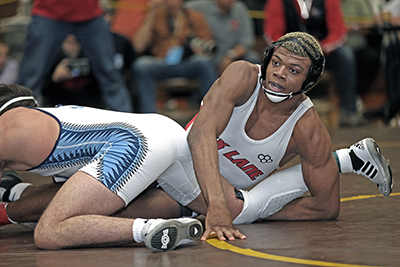 Fox Lane's Quincy Downes, as mean and lean as they came, took second in the 170-pound final of the NYS Division I (large school) Wrestling Championships. The Fox Lane senior was unable to master John Jay-East Fishkill's Tyler Albis, who he had defeated in the sectional finals. Nonetheless, Downes led the Foxes to their third consecutive Section 1 team title during one of the finest careers in Fox Lane history. Fox Lane had seven finalists and 10 top six place-finishers. Since New York adopted the large school, small-school format for the 2003-04 season, Fox Lane won a Section 1-leading eighth team title. The first five were under former Coach Joe Amuso, perhaps the best coach in Section 1 history, while the last three were under Anthony Rodrigues, a former Amuso disciple. Yeah, Fox Lane knows how to wrestle. When you have a ton of club wrestlers in your grappling room and a head coach that knows how to utilize the year-round club guys, your program thrives. Plus, a winning tradition is a contagious mentality; such is Fox Lane.
In the small school division, Pleasantville had a tournament-best six wrestlers reach the finals, with three wrestlers claiming titles, including Christian Perlleshi (99 pounds), Aidan Canfield (152) and four-time champion Len Balducci (120), an absolute beast who became just the 18th wrestler since 1961 to four-peat in Section 1.
P'Ville, with a tournament-best 258 points, finally steered clear of the agony of back-to-back second place finishes in 2018-19. Edgemont (222.5), Nanuet (215.5), Putnam Valley (194.5) and Pawling (129.5) followed.
Putnam Valley's Will Carano earned the Most Outstanding Wrestler award in the small school division. The Tiger junior, who dominated as the top-seed of the 160-pound bracket with two quick pins, won a second Section 1 title and further cemented his legacy as a top grappler in school history. Carano, if not for COVID-19, would have set the school records for wins set by Mikey Bruno and Kyle Sams while becoming the first five-time All-Section wrestler in school history and three-time All-NYS qualifier. If we don't wrestle in 2021, Iowa, yes, legendary Iowa, awaits this humble yet bruising beast, who runs a 4.16 mile.
While Duke's effort was the top individual performance of the year, Horace Greeley boys' hoops got the nod for top overall T-E-A-M effort after first-year Greeley Coach Matt Simone's
Quakers secured a 46-35 Section 1 Class AA championship victory over perennial power Mount Vernon to hoist the coveted gold ball at the Mecca, the Westchester County Center, for the first time in 40 years. It was anything but easy, though, as a 17-point fourth-quarter lead was cut to eight with the Quakers pushed to brinkmanship. Horace Greeley, in need of an adrenaline shot, got what the doctor ordered when, out of the left corner, just beyond the 3-point arc, senior guard Christoph Sauerborn answered the call. Although then-sophomore C Nick Townsend was a deserving MVP, it was Sauerborn who allowed the Quakers to create the necessary separation when his fifth three-pointer of the day, with 3:42 on the clock, all but ended the Knights' fourth-quarter comeback. Sauerborn finished with a game-high 20 points, while Townsend added 17 to go along with 13 rebounds as the Quakers earned a berth in the state tournament's opening round against Section 9 champ Newburgh where Chris Melis' buzzer-beater gave Horace Greeley a 50-48 win in the state NYS Class AA regional round just before COVID-19 ended the season, perhaps the finest season in Greeley history. Townsend went on to transfer to the Hotchkiss School, a prep school in Connecticut, for his junior season, effectively ending what might have become the finest career in Greeley history.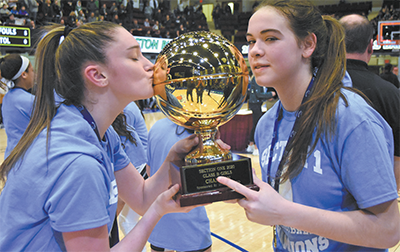 The Hen Hud girls were crowned Section 1 Class A champions for the first time ever after a thrilling 46-45 victory over Harrison, doing so behind senior Caitlin Weimar, who has gone on to win three MAAC Rookie of the Week honors at Marist College. Harrison held a 45-43 advantage with just 19.7 seconds left, but on the ensuing possession Weimer passed out of a double team to find Mylene Smith on the baseline. Smith then sank the biggest bucket in Hen Hud hoops history (boys and/or girls), a game-tying bucket and-one, converting on a go-ahead free throw that put the Sailors up for good. However, instead of competing in the state playoffs for the first time ever, hearts were broken when COVID-19 forced the cancellation of the NYSPHSAA tournament. History, though, will show Coach Ken Sherman's 2020 Sailors as the best in program history.
Similarly, the 2020 Putnam Valley girls snagged the first gold ball in program history under Coach Kristi Dini when a gutsy defensive effort and the biggest shot in program history from then-junior F Arianna Stockinger in the waning moments produced a dramatic 52-49 Section 1 Class B title victory over Irvington, the premier girls' hoops program in all of Section 1. PV went on to play a fanless game in the NYS tournament, which turned out to be the final game of the season, a 66-49 thumping of Section 9's Marlboro, who got tuned up by then-Tiger freshman Eva DeChent. The D-I prospect put on an historic show in a near empty gymnasium, dropping 39 points, snagging 12 rebounds and grabbing four steals in a state Class B regional semifinal.
Valhalla's Class B boys' hoops championship bid nearly came to fruition when Viking Sebastian Pacheco tied the game on a three-point, fourth-quarter play. However, his heroics left Hastings with one final shot, which it hit. Valhalla (19-5) couldn't get a shot off on the final possession, the top-seeded Yellow Jackets escaped with a 56-54 victory at the County Center to give Hastings its first Section 1 title since 1999. Pacheco had 18 points, eight rebounds, four assists and five steals in the losing effort.
Westlake was alive and well for Section 1's Championship Week after the Wildcats earned a berth to the County Center after a stirring 49-47 Class B quarterfinal over rival Pleasantville to secure the program's first Final 4 appearance since 1978. Carter Falkenberg, who led the team in scoring at 18.7 PPG and 7.6 rebounds, gave it his all but Hastings withstood a late charge from Westlake to earn a berth in the Section 1 final after a 57-52 semifinal win.
Stepinac's RJ Davis led the Crusaders to the NYCHSAA AA Archdiocesan Championship in a 73-68 over St. Raymond's at Mount St. Michael during a year when the Stepinac senior became Westchester's all-time scoring leader when he passed Danya Abrams, who set the previous standard in 1993.
Along with Duke-bound teammate A.J. Griffin, a consensus top-10 wing in the country, the Crusaders were poised to do damage on a major scale. Davis, who averaged 26.5 points, 8 rebounds and 5.3 assists, and Griffin, couldn't finish their senior year or the Crusaders' postseason due to the outbreak of COVID-19, but both are setting the collegiate hoops world on fire.
Davis, the first McDonald's All-American from Stepinac, finished his storied career with 2,466 points, the fifth-most CHSAA history, just 175 behind record-holder Kenny Anderson.
The fall season had many interruptions and was divided into six regional playoff brackets to keep travel to a minimum during the throes of the second COVID-19 wave. Players and coaches were thrilled to take the field in low-risk sports, despite the fact fans were granted limited access to home games and none as visitors. The fall football season was cancelled and coaches are beginning a strong push to play this spring.
Coach Matt Allen's Byram Hills soccer club continued its sectional mastery despite a 14-day quarantine. The Bobcats came back hungry and won the Putnam-Northern Westchester small school regional title, the seventh crowning in Allen's 20 years on the sideline. White Plains and Carmel both placed second in their respective large school regional divisions; Carmel doing so in historic fashion having gone undefeated through the Rams' first 10 games.
As they have done over much of her history, Lakeland field hockey Coach Sharon Sarsen's Hornets hoisted yet another championship plaque after Lakeland blew through the Putnam-Northern Westchester small school regional behind the play off four All-NYS players, including seniors M Keirra Ettere (33G, 10A, 76P, a lethal finisher), F Emma Fon (19G, 10A, 48P), D Emily McGovern and versatile junior M Mia Smith (10G, 11A, 31P). Lakeland's amazing string of 211 consecutive wins over Section 1 foes ended in a two-goal loss to Class A heavyweight Mamaroneck.
Horace Greeley did likewise, winning the large school regional crown, edging Carmel for the title behind four more All-NYS players, including Colgate-bound senior M Lily Schoonmaker (31G, 6A, 68P, 6 hat tricks), senior M Natalie Laskowski (12G, 11A, 35P), senior Caroline Flannery (7G, 11A, 25P) and senior D Emma Terjesen, who led, perhaps, Greeley's finest three-year run under Coach Suki Sandhu.
We're certain to have skipped a few beats in this parade through 2020, but hats off to all of our student athletes and coaches who have endured trying emotional times and a lack of physical activity that has led to depression in some cases. Our genuine respect for y'all is through the roof.
Happy New Year, everyone… it can only get better from here.