2017-18 Boys' Hoops Preview
We are part of The Trust Project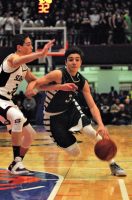 Hen Hud, Somers, Put Valley Highlight List of Local Hopefuls
After years of consistent production from local hoops teams in and about the Northern Westchester/Putnam Examiner region, one would be hard-pressed to sell the 2016-17 season as a banner campaign. After placing multiple teams at the Westchester County Center in recent seasons, just one boys' team – seventh-seeded Class AA Yorktown – had what it took to reach the grand stage of Section 1 hoops last year.
And this year, barring a last-minute reversal, no one will hit the illustrious County Center arena, which Section 1 had called home for decades: Because Section 1's Executive Director Jennifer Simmons and a panel of Section 1 AD's, and the Westchester County brass failed to reach a suitable financial agreement to keep the County Center in play. As a result, thousands of student athletes, their families and fans will miss out on one of the greatest sporting experiences in New York State.
As of press time, the lack of transparency regarding the situation had irked basketball fanatics from Mount Vernon to Arlington. While the situation is not likely to change this season with Pace University having been contracted and secured for the Section 1 championships (though there is a glimmer of hope for the semifinals at the County Center), there are several local boys' programs expected to be among the legitimate hopefuls to reach the Final 4, including Class B Putnam Valley, Class A Somers and Hen Hud, which hasn't been there since the wee '90s.
Of course, there are other contenders in our midst with a dollar and a dream, but getting there is about as tough as it gets unless you're reigning NYS champion Mount Vernon, who is the clear-cut Class AA favorites once again.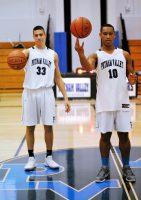 Class A is somewhat more open with Yonkers-based Saunders looking like one the real heavyweights along with Byram Hills, Tappan Zee, Poughkeepsie (back from Section 9), and locals Somers and Hen Hud. And Class B has as many as four or five legit contenders, including North Salem and Putnam Valley, which should make for a wild tournament in late February.
Here's a glimpse of what we can expect from the locals…
CLASS AA
CARMEL (7-13; lost to Ossining outbracket)
If you go to a Carmel game in December and don't recognize the players or the head coach, you won't be alone.
Carmel's projected starting five under first-year Coach Paul Brennan is essentially an untested unit, including F Jeremy Mendoza, F Peyton Cayea, G Shane McNerney, G Christian Hutra and G Gladimir Jean-Jacques, and those off the bench don't have much varsity experience either, including G Pearse Millard, F John Franklin and G Tom Ross.
Mendoza, who transferred in from Yonkers-Montessori, and McNerney figure to be the primary keys to success with the athletic Cayea, Christian Hutra and Tom Ross providing some rookie burst for the Rams, who have worked hard this off-season to improve.
"We are long and athletic," Coach Brennan said, "but we only have one player on the roster with any varsity experience. We are young and have a very tough schedule before league play begins. However, the potential is there for the team to progress and compete in league play."
League I-A consists of rival Mahopac, Arlington, RCK and John Jay EF, which is considered by some to be the favorites with a handful of transfers having returned to the district. This much we know: The Rams are never a pushover, especially in their gym when the @Carmel_Crazies turn out in full throat.
MAHOPAC (3-17, did not qualify for playoffs)
Don't sleep on the athletic Indians, a unit that is hell-bent on changing the fortunes of the last three years, seasons that were far below their expectations after reaching the Section 1 Class AA Final 4 in four-straight years from 2011-14.
Mahopac's starting five projects as follows: C Ryan Dugan (6'5", Sr.), G Justin Parker (6'1", Sr.), G Augie Djerdjai (6'1", Sr.), G Noelle Hall (6'1", Sr.) and G Rob Garcia (6', Sr.). Dugan is a sharpshooting big man who can extend the perimeter and take it to the rack. Djerdjaj and Hall lend great length and athleticism to the back court, and Parker is a major X-factor after transferring in from Kennedy. Long and lean, one would suspect big things from 6'5" junior F Rheal Allen off the bench.
"Parker helps us play a different style of fast-paced basketball that this team is built for," third-year Indians Coach Matt Simone said. "We have a great opportunity to have a bounce back season. With many returners from last year's team, along with great senior leadership shown all off season and pre-season, this team has the pieces to be competitive in any and every game we play this season. A key for us will be playing together, and playing more physical."
The addition of veteran Coach Dave Fernendez (after 25 years at Horace Greeley) to the coaching staff should help Mahopac immensely, along with former Croton star Greg Muller, as Simone's right-hand men.
Nothing these coaches say can change Mahopac's approach to defending the paint. That has to come from within. Last season, second-chance points killed the Indians, who were far less physical than necessary.
"Senior leadership and experience will be a strength for us this year along with a balanced, athletic attack of both guards and bigs," the coach said. "We have nine players returning from last year's team, and a team-first mentality. Our depth will also be a big part of our success."
Simone expects the Indians to compete for the league title and qualify for the playoffs this, season, and, truth be told, anything less would be unacceptable for a program steeped in recent history.
"The best thing about playing in our league is it is always competitive games top to bottom," Simone said. "Playing the tough teams in our league twice each year will help us in the long run. Arlington is usually the most consistent team in our league; however, we are hoping we can be the best team in our league this season."
The Indians will open on Wednesday at home (6:15 p.m.) against a solid Fox Lane outfit. Let's hope the @MahopacManiacs are on board, too.
YORKTOWN (17-6, lost to Scarsdale in semis)
When you have a talented guard like spiffy senior G Marc Spinelli and athletic junior G Tommy Weaver returning to the fold, the least of your problems will be your back court. Fourth-year Yorktown Coach Kevin Downes knows that guard play will not be an issue, especially with Ronnie Brucaj in the mix as well.
What Downes is banking on is an increase from forwards James Lundberg, Madison Cora and C Joe Sgobbo if the Huskers are going to find themselves in consecutive Final 4 settings this season.
"I expect us to struggle early and hopefully improve as the season progresses," said Downes, who has a knack for drawing blood from a stone. "We lost three starters from last season and our top two scorers, our best rebounder and defender. Add to that; with the success of our football team, we have kids not with us to start the year, so it will take time for them to get adjusted. We are a young team with little experience, so our young guys will determine how successful we can be."
Downes is expecting an infusion of energy from Michael Broder, Brandon Carter and Anthony Ortiz off the bench to start the season. Along with newcomer Brucaj, rookies Ortiz and Carter could be impactful.
"We will need to be very good defensively, and rebound the ball well," Downes admitted. "Getting our young guys to make the transition from JV to varsity and other guys transitioning from supporting roles to becoming the main contributors is the key to success. That will be a work in progress and guys will need to adapt quickly. We were a very good defensive team last year and we will need to be committed on the defensive end if we want to be successful."
Downes suspects Fox Lane to be the best team in League I-D and he anticipates Horace Greeley to be much improved, so the league slate should prepare the Huskers for Class AA powers like Mount Vernon, Spring Valley, Scarsdale, White Plains, Clarkstown South and Fox Lane.
Expect a different looking Yorktown team, one that will push the ball more and hope to make up for the loss of several key bigs.
"It's going be a very up-tempo style of basketball," Spinelli said. "We're expecting a lot from James Lundberg and Tommy Weaver, our junior point guard. We're pretty undersized, so we'll definitely need to run in transition and let our defense lead to offense. James is very long and will be able to protect the paint, and junior center Joe Sgobbo will definitely help under the rim."
OSSINING (5-17, lost to Mount Vernon 1st round)
The Pride did win an outbracket playoff game after a sub-par regular season, and they will battle the rigors of Class AA ball without the necessary height to make major gains. Still, the projected starting five figures to be competitive and push for a League I-D title where the likes of Fox Lane, Greeley and Yorktown figure to make significant noise.
Senior PG Robert Valdez (All-League), sophomore G Zahir Hernandez and senior G Latrell Goss will open the year in the back court. Senior F Jacob Toppin hopes to have the kind of his season his brother, Obadiah (now a redshirt at Dayton), had while leading the Pride to the quarterfinals a couple of years ago. Junior F Nas Shyllon or senior F Patrick Mallory will round out the starting five for now. Pride Coach Mike Casey will see Jahmad Thomas and Avi Wizwer make key contributions off the bench to start the season.
Toppin and Valdez will make us go but our role players on both sides of the ball are going to be essential to our success," third-year coach Casey said. "We have some length and athleticism, along with having several guys that are capable of putting the ball in the hoop. Our size may catch up to us. Our tallest guy is 6'2""
"We're expecting to turn things around after last year's disappointing season," Casey added. "It's a close group that works hard and encourages each other."
Defending their opponents will be the key to the Pride's success, according to Casey.
"If we can play tough D and limit teams to one shot and get out and run then we'll have success," he said. "I think we can be right there for the league title in the end."
Fox Lane will be among the toughest League I-D foes to contend with. Yorktown, which found itself at the County Center last year, and an improved Greeley team will be a handful for the Pride to contend with. Having emerged from the Sleepy Hollow tourney as its champions, the Pride are well on their way with wins over the host Horsemen and Tuckahoe. Toppin (41 points, 17 rebounds in tourney) was named MVP with All-Tournament nods going to Valdez and Thomas. Defensive MVP was Goss.
CLASS A
SOMERS (12-11, lost to Tappan Zee in quarters)
As the 10th seed in the Section 1 playoffs, Somers went out and knocked No.7 Peekskill out in the tournament's first round to salvage the season. But the 2017-18 Tuskers probably shouldn't settle for anything less than a Final-4 appearance with the likes of penetrating point guard G Gio Tradito and snipe-shooting All-League wing Lorezno Bicknese shredding nylon. These two can light it up with the best of them in Class A, and provide Coach Chris DiCintio with great hope for a League II-C title and beyond.
"I think we are looking great so far this season," Bicknese said. "We have great chemistry already and the energy is fantastic. The great thing about the team is everyone works extremely hard and everyone can get the job done. I think this is our year to make a big run."
Tradito is a three-year varsity player and pure ball handler.
"Gio has great speed and is a great facilitator with an ability to score at the rim or on the perimeter, and Lorenzo is our best three-point threat and a very strong rebounder," said Coach DiCintio, entering his sixth season at Somers, 11th as a head coach in Section 1 (11 years at Rye).
The Tuskers, who boast two space eaters in 6'3" F Jack Gilroy and 6'5" junior Max Germaine and a feisty, defensive-minded personality in senior G Chris DiCintio (the son of coach), are considered by many as the favorites for the league title with a strong Panas club in the mix with Lakeland, Brewster and John Jay CR also contending. Don't sleep on John Jay.
"The four starting seniors are three-year varsity players with tons of game experience," Coach D said. "All four players were starters on last year's team that won 12 games."
As opposed to last season when the Tuskers were in full football mode through the end of November, Somers should hit the ground running this season, including a non-league bout with visiting Byram Hills, who was stunned by reigning sectional champion Our Lady of Lourdes in the semis.
Somers will get about half a season under its belt before it sees Class A heavyweight Saunders on January 20th (5 p.m.) at Sarah Lawrence College in the "Pride on the Court" Challenge, designed to highlight inclusion in sports. The Tuskers will know right then and there if they can be included among the Class A heavyweights this season.
Germaine will be an X-factor as he takes over for Yale-bound big Nick Gargiulo, who will get ready for D-I football instead of hoops this winter.
"Max is a 6'5" center and best rim protector we have with an uncanny ability to block shots," Coach DiCintio said. "He has a good jump shot to go with his size."
Somers' main contributors off the bench will be Kevin Halper, a experienced guard that can do a little of everything; Lucas Fecci, a smooth facilitator with superb court vision; Nick Maestri, a very smart player with the ability to shoot from the perimeter and quick to the basket with penetration; Charlie Weissman, a long and lanky 6'4": forward that can shoot, rebound and defend; Declan Tauller, a three-point threat, and Drew Lasher, a sophomore guard with quick hands and a spark plug off the bench.
"The team has all the ingredients of a championship-caliber team," Coach D said. "They have size, speed, toughness and skill. Their ultimate strength is their chemistry. The team has played together all year round for many years now. They know each other's strengths and weaknesses and enjoy playing together."
The Tuskers are looking to capture their first league title in nearly 30 years, their last one coming in 1989, but Panas, Lakeland, John Jay CR and Brewster will try to deny. Despite winning the section in 1992 and getting back to the final four three years ago, the Tuskers came up short both seasons in capturing a league title. If the team stays healthy and hungry, they have the ability to finally snag that elusive league title and give themselves an opportunity to compete for a sectional title.
That will be a tall order with the likes of Bryan Hills, Saunders, plus upstarts Hen Hud and Ardsley, all expected to be among the prime contenders to represent Section 1 in the state tournament, but the Tuskers have as good a chance as the rest of the Class A contenders to be dancing at the Mecca.
HEN HUD (11-11, lost to Albertus Magnus 1st round)
As the 11th seed in the Section 1 tourney, Coach Jordan Hirsch's Sailors got a tough draw against the No.6 Catholic power from across the river, Albertus Magnus, which went on to the Final 4 before a two-point loss to eventual champion Tappan Zee. Still, a 60-44 opening-round loss to the Falcons was not acceptable by the Sailors' standards.
If the Sailors lose in the opening round this season, surely, it will sting like the dickens. Hen Hud has a ton of athleticism and basketball talent returning this season, including the Fraser twins, Austin and Dylan. Sharpshooting Dylan Fraser (All-League) has been on the club since his freshman year and Austin (injured last season) has battled injuries the last two years, but both should have a major impact in the Hen Hud backcourt this season.
Impactful Kyle James (All-Conference, All-League), Mekhi Gray (All-League HM) and Jack Kelly all return with a fire in their belly. Newcomers, including speedy Manny Carbone, bruising Michael Fasolino, Amoni Haynes, Connor Gallagher, Max Popolizio, Dennis Emanuel and Justin Larish are new to the scene.
Expect a breakout campaign from freakish 6'3" junior swingman Gray, who styles on both ends, and figure on 6'4" senior F James to be a walking double-double. There is a ton of competition for the fifth starting spot, and Hirsh claims the energy is through the roof as the Sailors round into form.
"There is a lot of competition in practice and I expect that we will have a lot of guys competing for minutes," said Hirsch, now win his fifth year. "It's a little early to peg down strengths and things to improve on, but I think a strength of our team is chemistry. These guys really play well together and care about each other, and my hope is that it will translate on the defensive end into some grit and toughness. Something we need to work on is communicating and being disciplined on the defensive end. It has improved, but it can improve a lot more.
"In my opinion, this team has the potential to be very good," Hirsch added, "but as you know the word "potential" is only as good as what you do with it. We want to have enthusiasm every second we are on the court. We want to play defense with a fiery intensity, and we want to make memories as a team that will be long lasting for our players. Our goal this year isn't very complex, but it's not so simple… we want to get better every day."
League II-E is very competitive, with Poughkeepsie returning fresh off of a Section 9 title, and Lourdes as the defending Section 1 champion, though the Warriors loss a bunch of transfers. Peekskill and Beacon are nothing to sneeze at and will be as tough and athletic as anyone.
"With all that said, I think on any night, anybody can beat anybody, and I put us in that category," Hirsch said. "I expect that we will compete in every game and that we will do everything till the last buzzer to be on the right side of the score board. Win or lose, if we do that, we can be satisfied."
It's been a long, long time since the Sailors revisited the County Center, a quarter-century, in fact; going back to the days of McNulty, Leshinksi, Friedman, Kelly and the Mauro bros. Hirsch and the Sailors are tired of hearing about that, tired of reading about in this space, so it's time to go out there this winter and do something about it. Let's hope the @HenHudFanBase — aka HHBleacher Creatures — are up for it.
PANAS (10-10, lost to Byram Hills 1st round)
One thing is certain: In 5'11" All-League G Brandon Hodge, first-year Panas Coach Mike Auerbach will always have one of the best athletes on the floor, no matter who the Panthers play. The speedy senior excels in the open floor and more than holds his own in half-court sets, providing Auerbach with a steady, playmaking force. G Joe Staino (6'1") and All-Conference swingman Brandon Ramos (6'2") round out a solid, experienced back court while bigs Kyle Denault (6'3″ Sr. F) and Peter Anderson (6'3″ Sr. F) figure prominently in the front court.
Auerbach, who has had successful stints coaching at Irvington and Valhalla before returning to his Panas roots, has plenty of pieces to configure a successful unit, but it may take the first quarter of the season to figure out his rotations.
Among those vying for time and pushing for starting spots include, Taji Hargrove (5'10" Sr. G), Blake Breban (5'10" Jr. G), Lucas Feliciano (6'2″ Jr. G/F) and Joe Cavallo (6'3″ Jr. F).
"Ramos and Hodge are our most experienced returners," said Auerbach. "Ramos is a four-year varsity player who has a really complete game offensively. He's got as good of a mid-range game as I've seen at this level, can finish at the rim in a variety of ways and has developed a reliable shot from long range. Hodge is also a four -year varsity member with a great ability to get to the basket and create for himself and teammates. He should be one of the quicker and stronger guards in the area, and really excels in transition. Staino gives us a 3-point shooting threat that should help stretch the defense. Hargrove is a good defender who can get to the basket and finish in transition. Anderson is another senior who started several games a year ago. He gives us some toughness inside and on the boards.
"Senior Kyle Denault is a newcomer who we expect to play a big role for us," Auerbach added. "He's a mobile forward who can play on the perimeter or around the basket. His game really developed over the last year or so, and he gives us another option on the offensive end."
As a No.17 seed last season, Panas was a flighty club under former longtime Coach Shawn Sullivan (through no fault of Sullys), knocking off the likes of Class AA semifinalist Yorktown, then splitting against the likes of John Jay CR and Lakeland and losing late to Dobbs Ferry. Nobody could figure out what Panas team would hit the floor last year. That has to change. Consistency will determine the Panthers' fate this season, and their veteran experience should ensure that.
"I think we have a chance to have a good year if we continue to work hard and develop on both ends of the floor," Auerbach said. "We definitely have the pieces to compete with the top teams in A and our league. I think we have a pretty challenging schedule that will test us, which will hopefully pay off come sectional time."
The Panthers hope to be in the hunt for their third sectional title since 1997 (2014 the last).
LAKELAND (6-15, lost to Hen Hud in outbracket)
Coach Steve Fallo's Hornets had trouble scoring the ball last season, as evidenced by their 60-37 blowout loss to Hen Hud in the play-in round of the sectional tournament. The Hornets have suffered through a couple of sub-par seasons and they hope to change that in 2018, but the Hornets were dealt an unexpected blow when athletic senior G John Mule opted not to play this season to concentrate on D-II football. However, Lakeland does have six returning seniors, all of which are expected to contribute.
"For us to be successful, they have to contribute," Lakeland Coach Steve Fallo said, citing returning starters G Chris Foci and F Mike Capozzi, as well as G Regan Fallo, Jared Cohen, 6'1" F Matt Hodges, G Gabe Nieves, 6'3' F Jared Cohen and 6'3" F Adrian Ramsarupe. "We must play unselfish basketball to compete in our league. Also, our non-league schedule will be very challenging."
Key newcomers include C/F Joe Vetrano and swingman Jack Kruse (guard/forward), both sophomores who can have a big impact. G Ryan Casey and F JP Walsh are also rookies.
"Hopefully, we will be able to play up tempo and score in transition and off of turnovers," Fallo said.
Lakeland lacks significant size, so tempo will be important in a league where Somers is expected to push for bragging rights with Panas as the co-pre-season favorites. John Jay is a strong sleeper.
BREWSTER (6-15, lost to Ardsley in outbracket)
The Bears' starting five on opening night was sharpshooting point guard Harrison Dignan, G Chris Blaser, F Kevin Stefanick, F Joe Girard and high-energy C Dylan Gusler, and things looked dreary when Lakeland took a 16-0 lead through one quarter of play. The Bears recovered and looked more like the team they should be throughout the final three quarters of a 51-41 loss in the opening round of the Lakeland tournament. Dignan will keep them in games when he's on, which is often.
CLASS B
PUTNAM VALLEY (11-11, lost in P'Ville in quarters)
PV is seeking a fourth Final 4 berth in five seasons with two of the finest bigs in Class B in juniors Darnel Shillingford and TJ Brescia. The versatile 6'2" Shillingford returns with All-League honors and the ability to play anywhere on the floor, from point guard to center. The 6'3" Brescia is an imposing paint presence who has added a deft touch to an already-proficient paint game.
As sound as the dynamic duo is, the key to the Tigers' season lies in the development of its other three starters, including junior wing John Millicker, junior G Ryan Soto and several others vying for guard play, including junior Brandon Guerra. Senior G Kevin Gallo provides a solid on-ball defender, so he'll be in the mix, along with G Austin Fabiano.
Newcomers include varsity rookie Ivan Caposito, Bobby Kroboth, Charlie Gatewood, Gabe Moise, Ryan Marsh, Reilly Nolan and newcomers to the program Adam Cekaj and Kevin Reyes. With a year of varsity experience under all five junior starters and some added depth this season, one would expect the Tigers to be setting their sites on the Final 4 or bust.
"I don't look at it that way," said PV Coach Mike McDonnell, who enters his fourth season in the Valley (65-24) with guarded optimism, but he's had the Tigers working all off-season in an effort to get back to the Final 4 and challenge for a championship after the youthful 10th-seeded Tigers gave defending Class B champion Pleasantville all it could handle for three quarters last February in a quarterfinal setback.
"You can't bust with five junior starters," he said. "The goal is always to get to the County Center, but there is never a guarantee for that, especially with this year's deep crop of very strong B teams. We talk about in this program: "Win the day" and "be where your feet are", not about County Center and championships.
The Tigers have a very tough schedule with games against Sacred Heart, North Salem (twice), Blind Brook, Briarcliff, the Dobbs Ferry Tournament and contests against larger schools like Beacon, Walter Panas, Ossining, Pelham and Carmel.
"We are obviously stronger and more experienced, having played six sophomores so much last year," McDonnell admitted. "Our two returning All-Conference players (Shillingford and (Brescia) should continue to be forces in Class B. The key is the development of the players around them. If we get consistent contributions from our backcourt, then we have an opportunity to get the Final 4. John Millicker and Ryan Soto are primed for strong junior seasons. Look out though for junior, Brandon Guerra, who is starting to show signs of being an impact player."
The league is stacked with Class B heavyweights, including co-favorites North Salem. Many pundits are picking both PV and North Salem to be Class B Final 4 contenders. Scrappy rival Haldane and Pawling round out the league.
Let's hope the @PV_SUPERFANS are up to lending a helping hand.
CROTON (14-8, lost to Briarcliff in quarterfinals)
If it seemed to some like former Tigers Charlie Goldberg and Rory Parker had been red-shirted or something, on account of having been around so long, it's understandable. But there's a few new sheriffs in town after that dynamic duo has finally graduated after a solid four-year run.
Junior F Miles Ackerman (returning starter, leading rebounder), junior F Sean Reynolds, slick shooting sophomore G Sean Macarchuk, senior C Graham Webster and junior point guard Cal Colistra figure to get the starting nods, though Coach Ben Martucci admits that could change.
G Matt Minett, F Jack Savell, G Ryan Windrum and F Theo Curran will push for time.
"It's a very enthusiastic and committed group, all about what is best for the team as a whole," Martucci said. "There are no personal agendas. We have a very tough schedule within our league, and also with crossover games against Irvington and North Salem."
Macarchuk can hit from distance with the best of them in Class C and should provide a reason for opposing defenses to contest the perimeter, which should open things up inside for Ackerman.
"Team chemistry, coachability and enthusiasm are strengths, but we need to show we can rebound," Martucci said. Our league was the toughest in all of Class B last season, and it might be the same story once again this season. We have Pleasantville (defending Section 1 Class B champs), perennial power and defending league champ Briarcliff (which only graduates one contributor from last season), Valhalla (which returns two All-Section players) and Westlake."
Briarcliff is once again the league favorite and Martucci expects the Bears to be in the mix for the sectional title with clubs like North Salem (won Class C last season), Dobbs Ferry, Putnam Valley and Woodlands.
CLASS C
HALDANE (7-14, lost to Hamilton in quarterfinals)
The Blue Devils are just a year removed from three-peating as Class C champions: Clearly, the greatest era in Haldane boys' hoops history, so the tradition has never left the building under 12th-year Coach Joe Virgadamo, who get the most out of every team he coaches.
"We have a competitive environment now and the starters will depend on what happens in practice," said Virgadamo, as feisty as they come as a coach and former Blue Devil player. "There are eight guys competing for starting and off-the-bench roles."
Haldane's Matt Champlin, Alex Kubik, Nick Dipalo and Liam Irwin are among the veterans hoping to turn around a substandard 2017 season.
"Everyone on the roster is a returning player," Virgadamo said, "so our experience is going to help us move faster throughout the year and win the close games. We need to improve our communication on the court. It's going to be a key for success for both offense and defense. We have potential to be successful, however, the key factor is having everyone learn their roles early in the year. This will improve shot selection, distribution and chemistry."
With Put Valley and North Salem to contend with in League III-E the Blue Devils will be battle-tested outfit by the time the playoffs roll around.
"The league is very tough with Putnam Valley and North Salem," Virgadamo said. "They are the league favorites."
Class C, where Haldane competes for the playoffs, has two clear favorites in Hamilton, which returns a slew of talent, and Tuckahoe. The former three-time reigning champion Blue Devils entered the 2017 playoffs as the No.5 seed and failed to get past No.4 Hamilton in a gut-wrenching 70-61 overtime setback.
It won't be asking too much of the Blue Devils to get back to the Final 4, will it?
CHSAA
KENNEDY CATHOLIC (11-15, lost in the CHSAA semis)
After a sub-par 2017 season, fifth-year Kennedy Catholic Coach Al Morales will be dealing with significant losses, including his son, AJ, to Millbrook Prep School. The Gaels will now turn to AC Brown (6'3, Sr. F), Jai Burton "6'1, Sr. G) and Bryan Szpindor (6'3 F). Top Newcomers include Richard Bolding (Jr. 6'1 G), Jori Benson (Jr. 6'4 C), Aiden Spillane (6'2 G) and Sebastian Cano (6'0 G).
"We are young and eager to gain some game experience," Morales said. "We only have five returning players, of which only two played minutes last season."
The Gaels were set to open up their season this Thursday the 30th of November on the road vs. St. John's Prep of Queens, NY at 6pm.
All Coaches from the Putnam/North. West. region were contacted repeatedly for preview information.