17 Peekskill Residents Indicted on Drugs, Firearms Charges
We are part of The Trust Project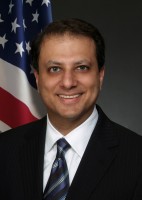 Seventeen Peekskill residents were indicted in federal court in White Plains Thursday on charges of distributing narcotics and using firearms in the city.
"Even small towns like Peekskill are not immune from the narcotics trade and the violence with which it is inextricably linked," said Preet Bharara, U.S. Attorney for the Southern District of New York. "With today's charges against these 17 defendants who were allegedly responsible for visiting this plague on the community, we are taking an important step forward in returning Peekskill to its law-abiding residents."
The drug trafficking organization allegedly took place from 2008 to 2013, with crack cocaine and heroin being sold out of apartments at Dunbar Heights on Highland Avenue and other locations in Peekskill.
Lorenzo Wagner, Jr., 29, was the alleged leader of the effort. According to the U.S. Attorney's Office, organization members worked together to ensure everyone profited from the drug sales, using units at Dunbar Heights in 2011 and 2012 to cook crack cocaine, and package, store and resell drugs. In order to secure the organization's control of portions of the Peekskill narcotics trade, Wagner allegedly ordered multiple shootings against rivals. These shootings were carried out by the organization's enforcers, including associates of the group who were paid to commit acts of violence.
Wagner and seven others, Phillip Guzman, 28, Juan Urena, 23, Stefano Demicheli, 25, James Patterson, 27, Marquise Roberson, 24, Myron Wagner, 19, and Lorenzo Wagner, Sr., 48, were charged with conspiring to distribute , and possessing with intent to distribute crack cocaine and heroin from January 2008 to March 2013. Wagner, Jr. and Patterson were also charged with using, carrying, possessing and discharging firearms during the narcotics conspiracy. Guzman was also accused of being a felon in possession of a firearm.
Seven other Peekskill residents were named in a second indictment. Lamar Kingwood, 34, Jamel Bailey, 33, Melissa Dabbs, 43, and Isaac Mallory, 33, were charged with conspiring to distribute, and possessing with intent to distribute, crack cocaine and heroin from 2008 to 2013. Tyron Brickhouse, 28, Kenyata Burnett, 37, and Ronald Carter, 47, were charged with conspiring to distribute, and possess with intent to distribute the same drugs from at least November 2010 to March 2013.
Two others, Hakim Anderson, 33, and Paul Lockett, 32, were charged in separate complaints with the same alleged crimes.
Fourteen of the defendants appeared in court before U.S. Magistrate Judge Lisa M. Smith. Lockett and Guzman remain at large, while Burnett is in state custody and is expected to appear in White Plains this week.
"These arrests send a clear message that drugs and violence are not tolerated anywhere in Peekskill," said Peekskill Police Chief Eric Johansen. "Our narcotics unit worked closely with the U.S. Attorney's Office, the FBI, and Westchester County Police to break up this violent drug ring. Our department will continue to set a high standard of performance and excellence to protect all of our citizens and businesses now and in years to come."
The charges against the defendants carry maximum penalties, if convicted, of between five years and life in prison.