Farmers Market Discussed at Yorktown's YOUnited Mtg.
We are part of The Trust Project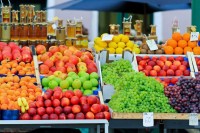 Karen Symington Muendell's proposal to create a weekly farmers market in Yorktown drew support and criticism at the second meeting of Yorktown Organizations United (YOUnited), the new group dedicated to non-profits and charities in the town.
Muendell, accused by three local farmers who attended the meeting of not reaching out to include them in the market, stressed that she had made overtures to the businesses.
She said she wished to include them in any way possible.
"If you can't be there, give me some flyers or some way to promote you," Muendell said. "If you don't want to participate, I don't know what to say."
Muendell said Yorktown farmers could become vendors at the market for a substantially reduced "nominal, nominal fee." The only reason it would not be free for them to appear, she said, is because the market's vendor fees each week are donated to a charity.
But Bob Stuart, of Stuart's Farm, said he worries that the farmers market will adversely affect the profits of local farms by drawing customers away.
"It's tough enough fighting the economy and the weather, and now bringing in competition … I'm not saying it's evil, but that's our concern," he said.
Some who attended the YOUnited meeting, which drew about 50 participants and was held in the library of Lakeland-Copper Beech Middle School, said the farmers market would attract new out-of-town tourists who could pump money into the Yorktown economy.
"I can only believe that having is here will bring more people from surrounding towns," said Mary Farrel Murphy, adding that she's attended a farmers market in Peekskill for years. "By bringing this into Yorktown … it can only promote our private businesses."
The group also discussed a fundraising initiative for the forthcoming Pines Bridge Monument, which will feature a trio of eight-foot-high statues depicting an integrated regiment of one European-American, one Native American and one black soldier.
Yorktown Chamber of Commerce President Joseph Visconti explained that there were two pricing options for commemorative bricks that could be purchased to support the project: a 4×8 brick for $150, and a 8×8 brick for $275.
Yorktown Supervisor Michael Grace also discussed his plans to create an annual Christmas or holiday parade.
The goal is "by the end of this year to really put all of your organizations on display," Grace told the YOUnited crowd.
Other organizations to address the meeting included: Yorktown Love in Action, the Yorktown Grange, Relay for Life, the United Way and Kids to Kids International, among others.