Think Fit for Kids to Raise Money for Brain Tumor Foundation
We are part of The Trust Project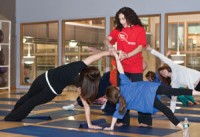 With businesses and communities feeling so much financial pressure today, it can be awfully difficult to launch a new fundraiser and have it turn out to be a successful venture.
But the organizers of last year's inaugural Think Fit for Kids at Club Fit Briarcliff overcame those hurdles to raise more than $150,000. This Sunday they are looking to at least match, if not exceed, those totals with a renewal of the family fun event.
Think Fit for Kids, held at Club Fit's North State Road facility from 2 to 5 p.m., will once again raise money for A Children's Brain Tumor Cure Foundation, a charity affiliated with the five-year-old Pediatric Low Grade Astrocytoma Foundation. The PLGA Foundation's goal is to find more effective treatments for children's brain cancer.
Chappaqua resident Kim Gilman, one of the organizers of the event, said along with raising money, the day is also  important to raise awareness because money is still needed for research in the race to find a cure.
"Without the awareness, the funds don't come in," Gilman said. "The more I talk to people, the more people understand this."
While the serious issue of raising money for children's brain cancer research is front and center, the afternoon will feature a series of activities for children and their families that stress fun and fitness. The first half of the event, from 2 to 3:30 p.m. will be the Family Fitness Festival. Families can chose between yoga, Zumba or spinning (participants must be at least 12 years old and 4-foot-8 for the latter).
There are also games and relays for children five to 11 years old, Mommy and Me Classes, teen basketball and access to the workout facilities for adults.
The second half will be the Family Fun Festival, which includes music, food and entertainment for the entire family.
For the second straight year Club Fit will donate its space for the afternoon to host Think Fit for Kids. General Manager Mark Cuatt said when he and his staff were approached last year, the goal of the event and the foundation's mission was in keeping with the club's mission of helping the community. Plus, many of the participants last year were either directly affected by children's brain cancer or knew somebody who was.
"We always look to give something back and we like to donate and help support a cause like this because they're doing it for the community," Cuatt said.
Once again the event will feature a silent auction, with an impressive array of gifts made available by donors and local businesses, Gilman said. Among the raffle items are sports and music memorabilia, a chef tasting dinner with wine at Crabtree's Kittle House, a family membership to the Jacob Burns Film Center and 2012 swimming pool maintenance from Gunite Pools of Westchester.
Gilman said last year the event raised $156,000 and she is hopeful they could at least match that total. With many people waiting until the day of the event to register or who donate after the fact, there is hope that totals will exceed. As of Monday afternoon, just over $110,000 was pledged to the cause.
Suggested donations are $100 for adult participants and $50 for youth participants. Families who donate at least $1,000 will be recognized on the Think Fit for Kids website and at the festival this Sunday.
Club Fit is located at 584 North State Road in Briarcliff. For more information and to register, visit www.thinkfitforkids.org.