It's Official: Ball vs. Katz for 40th Senate District GOP Nomination
We are part of The Trust Project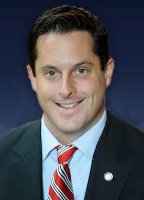 By Faith Ann Butcher and Alex Weisler
After weeks of speculation, Assemblyman Steve Katz (R-Yorktown) officially announced on Monday that he will not seek re-election in the Assembly, but will primary state Senator Greg Ball (R-Patterson) for the 40th Senate District seat.
Although the press conference signaled the start of the campaign, the two candidates, who were once political allies and companions, have been throwing verbal jabs at one another since February, when Katz told the public that he was considering the run.
On Saturday, as Ball formally kicked off his reelection bid Saturday to cheers and applause at Murphy's Irish Pub in Yorktown, a small group of Katz supporters camped outside.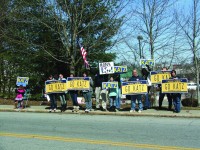 Ball's chief of staff, Jim Coleman, introduced the senator and addressed the 10 to 15 supporters of State Assemblyman Steve Katz who were picketing outside the venue, referencing the "protesters outside in the parking lot that six months ago used to be friends."
When he took the floor, Ball also addressed the tough primary fight he's likely to face against Katz.
"We're moving forward in a battle that's not just important for the petty politics, but that's important for the balance of power in this state," he said. "We're battle-tested. We've been to this dance before, we know how to win it, and we'll do it again."
Ball stressed his independent streak and vowed to work to ensure a continued focus on bipartisanship.
Still, Ball said it's crucial that his seat stays Republican to ensure that party's Senate majority in Albany.
"We have got to make sure that tax-and-spending crowd from New York City do not take back the majority," he said. "It's not about me."
Regarding the primary, Ball reminded the crowd that he's never lost a primary and secured his first victory in "a historic upset that has never happened before."
Two years ago, Katz and Ball campaigned together and Ball told the crowd that he was surprised by the assemblyman's quick turn.
"I never thought that I would have someone actually attempt to run to my right," he said. "How many of you knew him before I introduced him to you?"
Ball said it was important to consider things issue-by-issue instead of solely toeing the party line.
"You don't serve as a Democratic senator or a Republican senator. You don't serve as a senator for the Tea Party or for Occupy," he said. "You serve as a senator for all the people."
Outside Murphy's, the small protest drew some honks from passing cars but was mainly quiet — excepting a moment when Judy Ball, Greg Ball's mother, engaged the group after they greeted her with whoops of "Ma Ball!"
"You're unbelievable. I don't know how you can live with yourselves," she told the group.
But Gary Murphy of Chappaqua, who led the protesters, said the group was picketing to remind voters they had options.
"I think he brings the perspective of a citizen legislator," Murphy said of Katz. "Steve understands what a small businessperson goes through and therefore can enact legislation that works for all the people."
It's an important difference, Murphy said.
"We've had enough of those guys where Albany is a career path," he said. "I think Steve is looking to serve and then get back to his business."
There were no protesters outside of the historic Putnam County Courthouse on Monday morning, when Katz made his formal declaration of candidacy. He was joined by his family, friends and supporters. The only elected official who was on hand was Somers Town Councilman Harry Bolton.
In his speech Katz said that he was running for the state senate because he was disheartened with the broken promises that were made to the people of the Hudson Valley.
"I had high hopes that when I was elected that the Republican majority in the state Senate would serve as a partner and help lead the efforts to right our ship of state with a solid conservative, pro-growth agenda," Katz said. "I have been deeply disappointed."
Katz acknowledged that he voted for Ball in 2010, but claims that he has since learned the truth about the senator.
"Like others I voted for Greg Ball, believing that he was the man who he said he was," said Katz. "I now know as do so many others that there are two Greg Balls-the man with the split personality. There is the senator who preaches from the gospel of ethics reform and the one who uses taxpayer money to flood our mailboxes with self-serving propaganda."
Katz pegged the recent anonymous robocall incident as well a series of circulated YouTube videos aimed against Katz as the work of Ball.
That is a claim that Coleman has shot down.
"This is an outright lie, but a great campaign strategy to cloud a two year cover up of a double arrest record," said Coleman, referencing when Katz was arrested twice in the past, but both times was released without being charged with a crime. "Senator Ball is the state's top ranked conservative senator and the assemblyman is smartly fabricating these outright lies to justify a senseless primary, jeopardizing this critical senate seat."
As a small business owner, homeowner and family man, Katz said that he understood 'first-hand" the problems affecting the residents of the Hudson Valley.
"My agenda is your agenda: to reduce your tax burden, cut spending, reduce regulation, abolish unfunded mandates, and to create a climate that allows anyone who wants a job to find one," said Katz.  "In 2010, we thought we were electing a state senator who would champion that agenda. That is not what we got. I know the people of the Hudson Valley deserve better."
Democratic candidate Justin Wagner of Croton announced his intention to run for the state senate last fall. He has garnered the endorsements of the Putnam Democratic Committee and several northern Westchester Democratic committees.