Rival Lax Teams Come Together to Stick it to Cancer
We are part of The Trust Project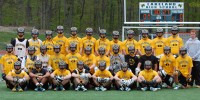 More than 500 people are expected to fill the stands at Lakeland High School on Friday, May 4  for the annual Charlie Murphy Cup game between Lakeland/Panas and rivals Yorktown High School.
While the two high schools may be rivals on the field, everyone will be working toward one goal on that night– fighting cancer. Members of the Lakeland/Panas team will be raising money for the Cheryl R. Lindenbaum Cancer Center at Hudson Valley Hospital Center throughout the season.  Team members will be collecting donations at the game and Hudson Valley Hospital Center will be selling "Light up the Night with Hope" necklaces for $5. The game starts at 7 p.m.
Bruce Lindenbaum, an HVHC Foundation Board member whose wife the cancer center is named for, will be speaking before the starting line up. Lindenbaum, who used to play for the Yorktown Cornhuskers, said that everyone, no matter which team they support, should support the cancer center.
"It's something that we should all get behind,'' he said.
The Booster Club suggested a fundraiser for the new cancer center because so many members' lives have been touched by the disease. The team has dedicated its season to the memory of Mrs. Carolyn Conroy, who died of uterine cancer in 2008 and whose two sons were former players.  The entire team will be wearing teal shoelaces to honor her memory since teal is the color designated for uterine cancer.
MSG Varsity will be filming the game, which has become a well known tradition between the rivals for the past decade.
Upcoming team fundraising events include a golf outing at Hollowbrook Golf Club on June 26th. For more information, visit http://www.lprebels.com/.