YWCA Program a Gem for White Plains Girls
We are part of The Trust Project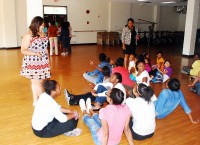 Briana Peebles, a senior at White Plains High School, was first enrolled in the YWCA's GEMS Program when she was six years old. In the 12 years since, the program has helped her make scores of friends, taken her to visit her future college and let her achieve honor roll in every year of high school, but the biggest impact GEMS – Girls Empowered through Meaningful Support – has had on Peebles has been in the experience of teaching some of the younger participants.
"We do activities together," Peebles said of the afterschool program. "Sometimes I have conversations with them just to see what's going through their head, be a mentor."
Looking to turn her love of working with children into her life's work, Peebles plans to pursue interdisciplinary studies at Virginia State University and eventually become a second-grade teacher.
Peebles is just one of many success stories for GEMS, a program for black and Latina youths in the White Plains City School District. GEMS has around 100 participants each year – on Friday eight girls graduated from the program – and many stick with it from kindergarten or first grade through high school.
"The program is so well known in the community that parents will call when their kids are four," said Nicole Stansbury, the YWCA's director of Youth & Community Services. "We're already filled for next year."
An afterschool program aimed at empowering and motivating young girls, GEMS has helped change the odds for many families in the city. GEMS students have a 100-percent high school graduation rate, and there have been no teen pregnancies in the program since Stansbury began working there six years ago, she said.
"For us, for our community, this is big," said Stansbury. "Our girls are honor roll students. They're being accepted into some of the top universities in the country, which is a big plus for the program."
GEMS students are broken into three age groups, each of which attend the program for three hours one day per week. The girls take part in cultural and educational activities and workshops, go on college tours, participate in a book club and work with organizations like Planned Parenthood and My Sisters' Place.
"When I got to high school, it was really my motivator to go to college," said Stansbury, who graduated from White Plains High School in 1992 after 12 years in the program. "My GEMS leader really helped me go to college. She really stayed on me."
Peebles, who completed more than 500 hours of community service while also working during high school, said GEMS played a huge role in her success.
"When I was younger I didn't think much of it. It was just an afterschool program where I had a lot of friends and was able to play, but as I grew older we began to do more things together," she said. "I grew intellectually and on a social level as well."
On Friday, a ceremony was held for the graduates and for those moving up from elementary or middle school.
"It taught me how to be a better young woman, and to do the best I can do in everything I do," said 13-year-old Apree Choice, an eighth-grader at Eastview Middle School. "It shows how important it is to go to college, and to do good in your education."
Free to participants and their families, GEMS is funded by the New York State Office of Children & Family Services, the St. Faith's House Foundation and the Jandon Foundation as well as private donors. The program director is Rhonda Brooks. For more information call (914) 949-6227 or visit www.ywcawhiteplains.com.