News Based on facts, either observed and verified directly by the reporter, or reported and verified from knowledgeable sources.
Youthful Yorktown Making Strides; Greeley Defeats Fox Lane
We are part of The Trust Project
By Tony Pinciaro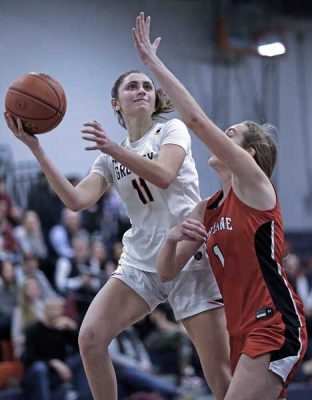 Olivia Lucas and her YORKTOWN varsity basketball teammates did their homework when it came to new Coach Kristi Dini.
"We knew she was a great coach and this was a great opportunity for us with her coming to the school," said Lucas, who was promoted to varsity midway through her freshman year. "We knew that she had success at the other two schools she coached at, so we were excited to see what was ahead for us."
That excitement has translated into the Cornhuskers sporting an 8-3 record, including six wins in their last seven games.
Dini, a former Putnam Valley great, transformed Somers into a sectional contender before returning to her alma mater. Dini guided Putnam Valley to the Section 1 Class B title and regional victory in 2020 before quarantine shut down the 2020 New York State Championships.
Lucas said the team received a positive vibe from their initial meeting with Dini and Assistant Coach Anne Darling.
"Our first meeting was during the fall season," Lucas said. "Coach Dini talked about bringing energy, showing up everyday, being our best always and working hard. That gave us a positive outlook."
Yorktown came into preseason with only four returning players, having lost veterans Emily Ward and Rachel Gevanthor to season-ending injuries. Preseason became even more important as the new players acclimated themselves to varsity and their new coaches.
"We noticed it after tryouts and after that first practice that even though we were a completely new team, we can still make something great out of this and coach sees this in us," Lucas said.
Yorktown split its first four games with losses to Class A powers John Jay-Cross River and Pelham. Despite those losses, Lucas said the team learned from them, helping them to run off wins.
"In those two losses we realized what it feels like to lose and we didn't want to feel that feeling again," Lucas said. "More importantly, in those losses at some points we played great, but when our energy level drops, our skill level went down. It's just staying mentally tough through the whole game."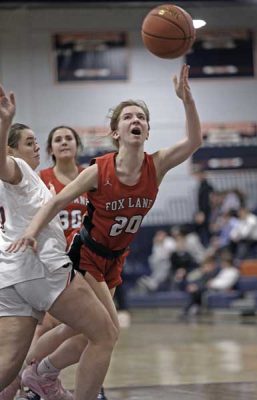 Yorktown has done this during its six-game winning streak before John Jay stopped it to close out the Cornhuskers' week.
Yorktown added its fifth consecutive win with a 49-34 victory over Brewster as Lexi Livadhi scored 18 points and also had 15 rebounds. Lucas added 10 points and Kaitlyn Judge had eight points and a team-high 12 rebounds.
Martina Prybylski and Lucas scored 17 points apiece in Yorktown's sixth straight win – 44-28 over North Salem.
In Yorktown's second loss to John Jay, Nicole Boccia scored 13 points and Lucas had 11 points.
Lucas and her teammates are psyched for the second half of the season and are hoping to continue their success.
"The first half has had its ups and downs, but to see how our team has reacted enabled us to build off that," Lucas said. "We're strong together and getting better every day."
PUTNAM VALLEY has won 14 of its first 15 games after a 66-39 verdict over Croton.
Eva DeChent surpassed 30 points yet again, scoring 33, and adding seven assists and six steals. Brianna Foody finished with 12 points, Nai Torres added nine points and Simone Gabriel had a pair of eights – points and rebounds.
The reigning Section 1 Class B Tigers play one game this week against Somers.
BRIARCLIFF's tandem of Cat Carrafiello and Caroline Barbolato continue to be among Section 1's most dynamic offensive pair as they fueled the Bears to victories over Rye Neck (66-27) and Blind Brook (66-62).
The Bears are riding a three-game winning streak and have a 9-4 record.
Carrafiello filled every stat box against Rye Neck with 24 points, five rebounds, five assists, seven steals and four blocked shots. Barbalato added 14 points and four steals and Ava Makaron grabbed 10 rebounds and had four steals.
The Bears found themselves in a tight game with Blind Brook, but Barbalato and Carrafiello each scored 24 points. And Adrianna Scanga had a team-high 10 rebounds.
"Blind Brook was a battle from beginning to end," Briarcliff Coach Denise Hamlin said. "They are well-coached and executed well throughout. Thank goodness basketball is a game of runs and my girls had a couple of key stops, and had the last run to pull away at the end.
"Along with Cat and Caroline each having 24 points, Adrianna had two huge foul shots at the end to give us a little breathing room. I was very proud of all 13 girls, whether in the game or on the bench. Everyone played a role. It was a total team effort."
WESTLAKE worked hard to earn victories over Valhalla (48-34) and Pleasantville (55-47), improving to 12-3 this season.
The Wildcats outscored Pleasantville by 16 points (40-24) in the second half for a 55-47 win. Allie Castellone led the Wildcats with 18 points and Maggie Plotkin and Brooke Pfeiffer each scored 10 points.
Meghan Raefski tossed in a game-high 24 points for PLEASANTVILLE.
"We had two games where we needed to battle, fight and stay patient," Westlake Coach Sean Mayer said. "It was a great road win at Valhalla. In the first half we could not make a basket, but we kept playing hard defense which helped us pull out a victory.
"I knew we could come out a little flat against Pleasantville and we did. We needed a strong second half and we did, outscoring them, 40-24. What helped is we had a 25-point fourth quarter and in the closing two minutes we went 8 for 8 from the foul line which was huge."
Toni Ann Mastrocchio led the Wildcats with a season-best 15 points against Valhalla. Pfeiffer and Castellone added 12 and 10 points, respectively.
WHITE PLAINS is riding a six-game winning streak after beating Saunders (63-26) and Ossining (78-32).
The Tigers, now 10-3, have been quite stingy defensively during this run. Holding Ossining to 32 points is a feat considering the Pride is one of the top teams offensively, annually, in Section 1.
"Our focus these last couple of games has only been on defense," senior Aliya McIver said. "We know that if we play defense, we will win games. We went over a couple of things in practice when it came to defense, and it carried over into games. When we play good defense, our offense just flows and this is how we are able to keep this winning streak alive."
McIver led White Plains with 14 points, four assists and six steals against Saunders. Ineivi Plata contributed 13 points.
Plata had an excellent game against Ossining with 35 points, four assists and 10 steals. Sequoia Layne had a season-high 22 points and six rebounds.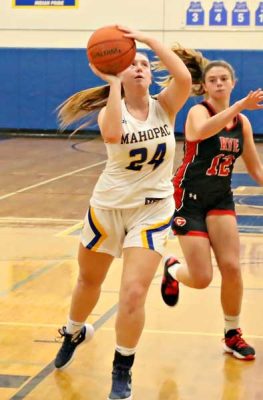 MAHOPAC is in a difficult league but there is one opponent the Indians are always psyched to play, archrival Carmel.
The Indians handed the Rams a 68-23 defeat, then followed up with a 74-34 win over former Section 1 team, Poughkeepsie.
"The girls were definitely ready for Carmel," Mahopac Coach Mairead Hynes said. "It's nice to re-new the cross-town rivalry, but when it comes to league games the girls are very intense. We know the strength of our league and that each game is extremely important."
Lauren Beberman scored 13 points and added seven steals and Piper Klammer also had 13 points and five steals against Carmel. Jess Sterbens scored 10 points.
Sterbens was the story against Poughkeepsie with career-highs of 23 points and 19 rebounds. Kristina Rush added 12 points.
PANAS had lost two of its last three games and was missing starters to injuries and illness.
The Panthers had a full team and it showed in a 55-36 win over Hen Hud.
Kelsey Cregan had a team-leading 16 points and also grabbed 12 rebounds. Sofia Tavarez contributed 15 points and Katie Hofmann added nine points.
"The season, so far, has been tough for us injury and illness-wise," Cregan said. "It was really good for us to get our full squad back this week to play and prepare for the tough upcoming games we have on our schedule."
Panas played intra-district rival, Lakeland, Monday, and also faces Harrison (Wednesday) and Pelham (Friday).
"Our games this week are going to be high intensity and important games for us," Cregan said. "I think this is where we have the opportunity to prove to ourselves that we can play against competitive teams like we did last year. This week is when we need to lock in as a team since we haven't had many games as a unit, and prepare together for our upcoming games and sectionals."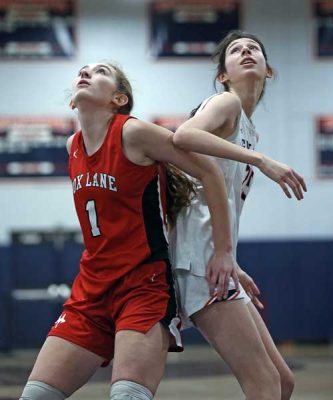 HORACE GREELEY improved to 4-1 in league play and 8-5 overall with league victories over Port Chester (62-33) and rival Fox Lane (53-42).
Emma Rose led a balanced scoring effort against Port Chester with 12 points, and also had six rebounds. Bella Schulman finished with 10 points, seven rebounds, four assists and four steals. Carolina Negrin added 10 points and five rebounds and Meredith Feiner corralled a team-leading 11 rebounds.
Rose connected on six 3-pointers for a game-high 19 points against Fox Lane. She also added six rebounds. Schulman had 15 points, four assists and four steals and Negrin added 10 points, 10 rebounds, five steals and four blocked shots.
BREWSTER was handed its first league loss of the season by Yorktown, 46-33. The Bears managed only 16 points in the second half.
"We struggled to score all night and were down 18-17 at the half," Brewster Coach Mike Castaldo said. "I thought we could make a run and play well enough to win, but Yorktown was the better team in the second half. They played tougher and made shots."
Brewster's offensive woes carried over to the Somers' game as the Bears trailed 15-2 after one quarter. However, Brewster's offense woke up and its defense shut down Somers in a 53-34 win.
Madison Dakin scored 17 of her game-high 20 points in the second half. Jordan Niles added 14 points and Lauren Leon scored 12 points.
"It was the exact opposite of the Yorktown game in that we got stops and made shots," Castaldo said. "I'm really proud of the girls. They could have folded and got blown out. Jordan carried us in the second quarter, helping us get back on the game and Madison was the best player on the floor in the second half. We showed some character and got a big league win."
BYRAM HILLS split two games and is now 5-8 this season.
The Bobcats opened with a 57-42 loss to Class B power Ardsley as Grace Corelli scored a game-high 22 points and Lucianna Parrotta added 11 points.
Byram Hills rebounded to easily handle Sleepy Hollow, 55-25.
Corelli led the Bobcats with 16 points and five steals and Parrotta had 14 points and five steals.
VALHALLA lost to Westlake (48-35) to open the week then closed out with a 45-24 win over Rye Neck.
Violet Mattoni scored a team-best 10 points against Westlake and Tvisha Shivaramakrishnan added eight points, eight rebounds and five blocked shots.
Sivaramakrishnan had an excellent game in the win over Rye Neck with 15 points, eight rebounds and four blocked shots. Sanai Wilson scored eight points and also had five rebounds and five steals.
LAKELAND went 1-1 with a 63-43 victory over Haldane and 51-35 loss to Pearl River.
Amanda Franco scored a season-high 24 points and Ava Lugo added 22 points against Haldane. Lakeland Coach Miranda Mangan cited the great defensive effort by Kellie Sullivan and Grace Hahn.
"We are a work in progress," Mangan said. "We have a couple of players out and have girls stepping into new roles. We are just looking to improve each game."
Nichole Ljuljic scored 12 points and Sarah Devane added 10 points against Pearl River.
OSSINING received a career-high 30 points from Angelica Rios in a 59-50 win over Fox Lane.
Nicole Perriott had 16 points and 13 rebounds, including 10 offensive. Freshman Ty'asia Carver registered 10 assists and Isabella Florez and Saniya Bell had nine rebounds apiece.
The Pride lost to White Plains, 78-32, and are 5-9 this season. Ossining returns to the court, Saturday, hosting Mamaroneck.
HEN HUD lost for the fourth time in its last six games – 55-36 to Panas.
The Sailors, 10-4 this season, were outscored by the Panthers 28-16 over the second and third quarters, giving Panas a sizeable double-digit lead.
Kaitlyn Raguso had 20 points and Madison Porter added eight points. Kayla McCarthy collected five steals.
Hen Hud plays at John Jay-East Fishklill, Tuesday, and hosts Class B power Ardsley, Friday.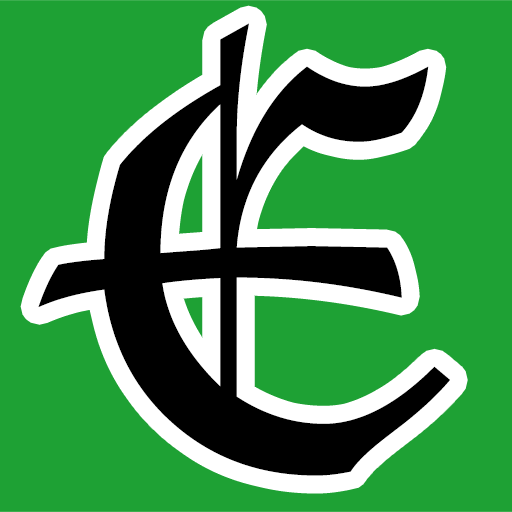 Examiner Media – Keeping you informed with professionally-reported local news, features, and sports coverage.