Youth With a Passion to Help Others Named Student of the Year
We are part of The Trust Project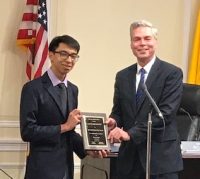 Louis Melendez, a senior at White Plains High School, will be graduating in June 2019 and currently holds a 4.4 GPA. At the November meeting of the White Plains Common Council he was presented with the 2018 Youth of the Year Award by Mayor Tom Roach.
Louis has been a member of the White Plains Youth Bureau's Youth Court since 2016. He has contributed countless hours to the program and is proud to help youth needing direction and support. Louis has been a consistent and active participant at Westchester County Budget hearings for White Plains youth. He has spoken out on the value of youth programs and the impact youth agencies, especially the White Plains Youth Bureau, have on the trajectory of at-risk youth. Louis has also been a voice for youth regarding gun violence and how this important issue affects our community and our nation. He has participated in forums and workshops including a Gun Violence Forum organized by Congresswoman Nita Lowey on this important issue.
Some of Louis other community service activities include President of the Key Club at White Plains High School where he has donated well over 100 hours of service including supporting various causes in Africa; member of the Mariachi Club at White Plains High School; volunteer at White Plains Hospital; SAT tutor at the White Plains Library and participant in food drives at El Centro Hispano. Louis has worked at the White Plains Center for Nursing Care as a Nurse Station Assistant and he currently works weekends at Saint Bernard Church.
Louis states that he has "a passion to help others and to make an impact on the lives of people that he meets."