Youth Group Shines Light on County Water Overflow, Climate Issues
News Based on facts, either observed and verified directly by the reporter, or reported and verified from knowledgeable sources.
We are part of The Trust Project
By Michael Gold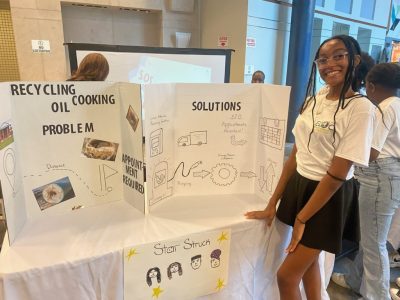 The winning team had pinpointed an acute problem for many Westchester residents: There's only one place in the county, in Valhalla, to dispose of your used cooking fats, oil and grease and residents must make an appointment.
Dumping this gunk and other non-biodegradable materials down the sink clogs pipes and municipal water lines. During rainstorms water cannot flow through clogged municipal water lines, which can flood apartments and homes.
The Mount Vernon Youth Community Outreach Program's (YCOP) winning project proposed that the county create more recovery facilities for residents.
"The cost of developing a solution is cheaper than repairing flood damage," said Diana Williams, a founder of Environmental Leaders of Color (ELOC), and a member of the board of directors of the Westchester Land Trust, in a speech at the organization's student project showcase and graduation for 166 students on Aug. 10 at the Yonkers Riverfront Library.
ELOC, founded by Williams and Marvin Church, teaches students in grades 7-12 about environmental issues at summer day camp programs in Ossining, Peekskill, Port Chester, Yonkers, New Rochelle and Mount Vernon.
"I want these kids to present this problem to the Westchester County legislature," Williams said.
Williams wrote in an e-mail after the event that she hopes the students from the winning team approach county legislators "so that they learn to become involved citizens who can work with their elected officials to resolve environmental and other community problems."
"This was an important presentation because it highlights a problem many municipalities face – sewer drains clogged by cooking and other types of oil," Williams wrote. "The solution involves educating community members about not pouring oil down the drain and providing adequate ways of safely disposing of these oils."
"Cooking oil in small quantities may be composted with food waste; however, it is better suited for recycling (creating biofuels) or anaerobic digestion," Aleks Jagiello, program specialist, compost operations for the Westchester County Department of Environmental Facilities, wrote in an e-mail.
"Cooking oil should only be added incidentally," Jagiello added. "For example, if one is collecting food scraps to bring to a drop-off, one may use a paper towel to absorb grease or cooking oil from a pan and place that oil-soaked piece of paper towel in with the food scraps that one is collecting."
ELOC's academic focus this summer was on "water in all its possibilities."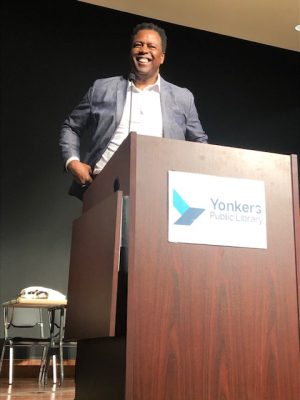 In late July, Williams visited one of the ELOC sites to survey eight participants about what they learned at the Ossining Youth Bureau's (OYB) summer program directed by Chima Monday. OYB partnered with Rising Above Boundaries, an enrichment program run by Kemi Pogue, founder and executive director of Hit a Home Run Against Drugs, and Iyeisha Pogue-Saez, director of Rising Above Boundaries.
"What was the most impactful thing you learned about water?" Williams asked the students during her survey day.
"Water is very important for everything on Earth," a girl responded.
"Access to usable water is disappearing," another girl said.
Williams asked why lead shouldn't be in our water.
"It messes up your hormones," a student explained.
The culmination of the six-week program was a showcase where students presented their solutions to an array of environmental problems involving water, including building water turbines, testing water for pollutants and filtering it with nanotechnology.
"The water temperature in the Florida Keys was about 98 degrees this summer," Williams told the audience. "We need solutions to the environmental problems we're having with our planet."
One leadership award winner, Joseph Goldwire, said, "I'm now environmentally aware of my surroundings." Another student, Jordan Hiland, earned a $500 college scholarship for his ELOC work.
The event's keynote speaker was Anton Vincent, CEO of confectionery manufacturer Mars Wrigley North America and Global Ice Cream.
"Each year we're releasing 55 billion megatons of greenhouse gases into the atmosphere. These greenhouse gases warm the climate. There is an existential threat to drinking water supplies, Vincent said. "If we don't solve it, it will impact every single person on the planet."
Assemblywoman Dana Levenberg (D-Ossining), who attended the event, said, "This was such an inspirational day, to hear the kids describe their projects. This program has made such an impact."
"It's a fantastic organization," Vincent said of ELOC "It really is helping kids to solve our biggest problem."
Vincent pointed out that Mars Wrigley is the third largest purchaser of cocoa in the world and that agriculture worldwide has been disrupted by climate change. The company is working on developing sustainable agriculture and business practices and helping communities where it operates, such as West African cocoa farms, with the goal of getting to net-zero carbon emissions by 2050.
The members of the Mount Vernon YCOP winning team were Jahneil Palmer, Virginia Murphy, Charles Murphy Jr. and Kaylyn Chisholm.
Besides Goldwire, other students who won leadership awards were Celso Dasilva and Yulissa Ceja.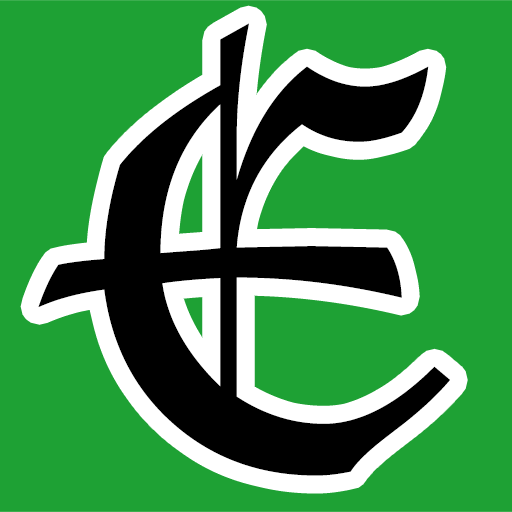 Examiner Media – Keeping you informed with professionally-reported local news, features, and sports coverage.