Youth Bureau Girls Academy Promotes Its First Class
We are part of The Trust Project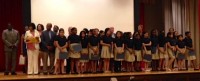 The White Plains Youth Bureau Girls Academy celebrated its first class with a moving up ceremony at Eastview School Saturday, June 7th.
The 25 middle-school aged students, each wearing the Academy's uniform of beige skirt with navy blue shirt, have attended the Saturday morning academy since October 2013.
At the ceremony they received certificates for scholastic achievement and notification that they will continue on to the next level of the program in the fall of 2014.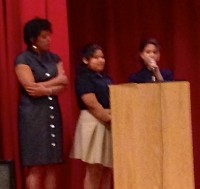 Liza Tuck, Program Coordinator said about 10 sixth grade girls will be selected next October to participate at the Academy's entry level, joining these 25 to continue growth of the program.
The aim of the Youth Bureau's Girls Academy is to encourage middle school girls to participate in a STEM (science, technology, engineering and Math) program and to develop their leadership skills.
The program included 25 sessions where the students were exposed to digital arts, writing code and learning about software as well as digital equipment, STEM, math skills development and golf. According to Tuck, "the program has created a path of hope and opportunity which encourage girls to pursue their dreams and aspirations. We do not want females to be intimidated," she said.
The golf component taught by Paul Giordano of Fit for Golf – Set for Life Golf School and Summer Camp, teaches the students how to interact with each other and instills within them the values, structure and discipline found in the game.
Frank Williams, Jr., Director of the White Plains Youth Bureau, commented that two years ago it was not anywhere on the radar that they would be teaching girls to play golf. "There has been a Boys Academy in White Plains for some 20 years," he said. "There was always talk about doing something for the girls and now that has happened."
Williams credited Iris Pagan Director of the Westchester County Youth Bureau for coming up with the idea to marry the STEM concept with golf.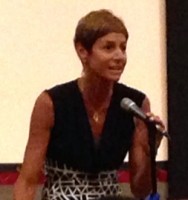 A highlight of the event was a talk by Kim Girardi, wife of Yankees Manager, Joe Girardi and co-founder of Catch25 Foundation, which is dedicated to giving hope to those touched by loss and heartbreak due to devastating circumstances by providing the necessary support needed to bring the process of healing.
Girardi is a graduate of Northwestern University with a Bachelor's Degree of Science in Human Development and Social Policy. She spoke to the girls about being grounded and having focus. "I define me. No one else defines me," she said, emphasizing that it is important to dream big, be your best, have a good heart and to chose your friends and words wisely.