Youth Bureau Breaks Ground on Newest Community Garden
We are part of The Trust Project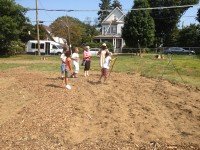 White Plains officials and community leaders are working to make sure the city's youth know the best tomatoes and cucumbers don't always come from the supermarket.
On Thursday, the White Plains Youth Bureau broke ground at the city's newest community garden, located minutes from downtown. The garden will be built on land owned by Bethel Baptist Church, as Youth Bureau Executive Director Frank Williams looks to work with houses of worship to build community gardens throughout the city.
"In looking at this particular land, we were saying, 'How can we bring something to the downtown White Plains area?'" explained Williams, also a member of Bethel Baptist Church. "We want to bring this to as many houses of worship as we can."
Several dozen White Plains youth were joined by city officials at a ribbon cutting Thursday at the garden, located at the intersection of Sterling Street and Prospect Street. Kids in the youth bureau's Growing Agriculture Program will help maintain the garden, along with Bethel Baptist Church members, and the food will be donated to food pantries.
"I'm really excited there's a new community garden," said Nellsie Harris, a camper at Bits N' Pieces Camp in White Plains. "I think it's really good we're giving things to other people who really need it."
Pastor Edward O. Williamson touted the benefits of kids learning about gardening at an early age.
"I grew up at my grandmother's house and she had a garden all the way around her house, and it was a very good experience for me," said Williamson. "One thing that you learn about a garden is that you may plant a handful of seeds, but if you plant a handful of seeds you have a bucket full of harvest."
Two years ago, New York Presbyterian Hospital in White Plains set aside an area on its campus for a community garden, and the youth bureau has been growing fruits and vegetables for the food pantry since. Bethel Baptist Church had purchased the Sterling and Prospect plot 15 years ago but hadn't been growing anything, so Williams decided it would be a great location for another garden.
Williams teamed up with the Westchester Community Foundation and received a grant from the United Way of Westchester and Putnam. The Youth Bureau now has several gardens around the city and hopes to continue to add more.
"It's one of those ideas that once it's there you think, 'What a great idea,' but someone had to start out with this idea," said Mayor Tom Roach. " This garden offers so many opportunities that can now be taken advantage of both for learning for children and also feeding people."