Young Westchester Professionals Celebrated at Business Council's 40 Under 40 Event
We are part of The Trust Project
By Ben Brody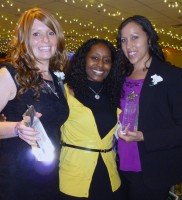 Darting out of a late spring rain, guests at Westchester's 40 Under 40 Rising Stars event last Monday gathered at Empire City Casino to celebrate the latest young professionals honored by the Business Council of Westchester.
The council, the county's largest business group, organized the 10th annual event to honor 40 impressive people under 40 years old working in Westchester. Hosted by News 12 Anchor and 40 Under 40 alum Tara Rosenblum, the event attracted about 400 guests who celebrated the rising stars, who are contributing to the county's improving business climate.
"We are very proud of all of you," County Executive Rob Astorino told the group. "I'm very much under the impression that this county will never, ever achieve the greatness that it once had without people like you who are going to take your businesses and your talents to the next step."
Other speakers included Business Council of Westchester President and CEO Marsha Gordon and Timothy J. Rooney Sr.,  owner of the Yonkers racino.
The evening started with beer and wine and a small buffet while attendees mingled. A slideshow featuring current and childhood photos of the Rising Stars was shown.
The event then followed a formula a bit like that of another late-spring tradition–graduation. The 40 Under 40 entered to applause and speakers celebrated their past accomplishments and promise for the future. The names of each of the 40 Under 40 were called and the honorees rose to accept glass statuettes and take pictures while supporters applauded and cheered. Afterward, there were hors d'œuvres and cocktails in the restaurant overlooking the racetrack.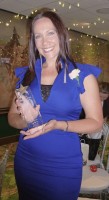 "It feels great," said Eon Nichols, a partner at Cuddy & Feder LLP, a White Plains law firm and one of the 40 Under 40. "It's like being told, 'What you've been doing, continue to do it.'"
"It is always a great occasion when you can give others the opportunity to stop and enjoy their accomplishments for an evening, especially those who are achieving so much so young," said Anthony Mauciei, president of East Hill Cabinetry in White Plains and a 2011 40 Under 40 alumnus.
During the evening many attendees alluded to the fear that Westchester is losing its young talent because of opportunities in New York City and high living expenses.
"We have made it a real part of our mission to keep you here, to make sure it's attractive enough to start your businesses here, to expand your businesses here, to start your families here and retire here one day," Astorino said to the honorees. "You are the foundation of Westchester's future."
"It is so important that the younger generation that's rising up in business has a place to grow here in Westchester because we want to stay in Westchester," said Diana Costello, a communications specialist in Astorino's office and another of the Rising Stars.
"We want to work here, live here, play here and there's plenty of opportunities to do that as evidenced by tonight's event," Costello later added.
Gordon pointed out that this year the business council had received more nominations for the award than ever before.
"The 10th anniversary class is truly impressive and offers an encouraging sign that our regional economy is attracting and retaining top level business talent," Gordon said.

"Each year I am humbled by the amazing young talent that is placed in front of our selection committee," said Andrew R. Castellano, president Sharc On Hold Messaging in Purchase as well as an alumnus and a member of the selection committee. "There is an amazing energy about 40 Under 40, and the potential to do even greater things together is very promising."