Yorktown's Comptroller Set to Make History in North Castle
We are part of The Trust Project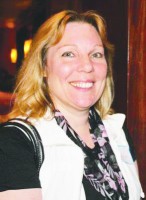 Three months after the majority of the Yorktown Town Board voted for her to resign but kept her in the position, longtime town Comptroller Joan Goldberg was expected to be approved Tuesday morning as the first ever town administrator in North Castle.
If approved by the North Castle Town Board, Goldberg, who has served in Yorktown for the past 16 years and worked under five different supervisors, would likely begin her new position in mid-September, in time to help North Castle officials with the 2013 budget process and the upcoming state comptroller's audit of the town's finances, which is scheduled to begin this week.
Supervisor Howard Arden said Goldberg, 47, brings a strong set of skills to the job. She is a recognized fiscal expert who also holds a masters degree in public administration. With rapid Yorktown supervisor changes in recent years, Goldberg has been relied upon to complete more administrative tasks.
"She's actually the comptroller in Yorktown but with the turnover in the supervisor's office there she's become the de facto town administrator for the past six years," Arden said.
Arden confirmed Goldberg's salary will be $135,000, not including benefits. She currently makes $110,000 a year.
In May, Goldberg said she was "flabbergasted" by an after midnight resolution approved by Yorktown Supervisor Michael Grace and councilmen Terrence Murphy and Vishnu Patel that called for her to resign to allow the board the opportunity to interview candidates for comptroller. The resolution was not on the official agenda available to the public and triggered dissention on the board.
Grace said Monday Goldberg's apparent new job in North Castle was "news to me," noting he hadn't received any contact from any North Castle officials or Goldberg, who reportedly was out of the office this week and could not be reached for comment.
"I don't hold it against her to interview elsewhere. I guess it would have been nice to know she was proceeding in another direction," Grace said. "I wish her the best of luck. She has to do what is best for her and I have to do what is best for the Town of Yorktown. I guess it's time for her to look for different horizons and for us to change direction."
Meanwhile, Grace defended the actions of the Yorktown Town Board in seeking other applicants for comptroller.
"There were certainly issues that I had that deserved adequate exploration," he said. "There were a lot of concerns on how the office was running on a daily basis. There were a lot of reasons for us to reexamine that office. I guess she felt threatened by the process of reviewing the position. When someone makes themselves indispensable, then it's time for them to go. That's not a good situation for anyone to be in."
Yorktown Councilman Nick Bianco, who opposed the May resolution for Goldberg to resign with Councilman Dave Paganelli, said of the approximately eight people the Town Board has interviewed for comptroller, including Goldberg, Goldberg was by far the most qualified.
"This is their (North Castle) gain. We lose. There's no question about it," Bianco said. "I don't blame her for leaving. I would to. I wouldn't want to be where I wasn't wanted either. Our finances are in good shape, mostly due to her guidance."
Goldberg's appointment comes in tandem with the hiring of Faith Berland, who will be North Castle's new comptroller. Berland, who recently moved with her family to town, was the director of finance for 12 years at Reuters, a $1.7 billion a year company, Arden said. She is currently a finance executive with the Manhattan law firm of Beys, Stein & Mobargha. Berland, who is scheduled to begin on Sept. 10, will earn $80,000 a year.
The double appointments will mark a significant move to more professional management for North Castle, Arden maintained.
"We felt by bringing the two of them on together they would really complement each other," he said. "We're getting two really good people."
Councilman Stephen D'Angelo said he liked that Goldberg managed a staff of about five or six employees in the comptroller's office. He said her appointment will be good for the town.
"My first reaction to her was that I wanted her to be the town comptroller but she did a lot of the jobs of a town administrator without ever having been a town administrator," D'Angelo said.
Arden has been a strong proponent of hiring an administrator, making it a key issue in last year's campaign against former supervisor William Weaver. He argued that costly mistakes such as the aborted Westwood organic recycling center project and the loss of the Armonk A&P could have been avoided with more effective town management.
Despite the town board's establishment of a search committee in late June which provided a short list of names for the administrator's post, Goldberg was the only candidate the town board interviewed, said Councilman John Cronin. The committee was comprised of members from North Castle's two task forces that had been formed during the last four years to study the feasibility of an administrator, plus retired New Castle Administrator Jerry Faiella and Town of Mamaroneck Administrator Steve Altieri.
Initially, the board had considered Goldberg for the vacant comptroller's position but found her to possess all the qualities officials had  been looking for in an administrator.
"I think if there's a candidate that has everything you're looking for I don't think you get anything more by going through the process," Cronin said.
"I think she is well-suited for this job, is high energy and has outstanding experience," he added.
Arden and Cronin acknowledged that the recent controversy that placed Goldberg at odds with Grace gave them reason to pause. However, Arden said after speaking with Grace he believes the disagreement was mainly philosophical.
"I think for the past few years Joan has been in charge of the daily running of the town and he had much different thoughts on how it should be run," he said.
Hiring an administrator was formally discussed for the first time in 2008 under then-Supervisor Reese Berman, who formed the first of the two task forces. In 2009, the town board voted to establish the administrator's position but opted not to fund the position while the town was under difficult financial constraints. Weaver opposed the hiring of an administrator but formed a second task force last year that recommended a chief financial officer be hired to assist the supervisor with fiscal matters.
North Castle becomes just the third Westchester town to hire an administrator. All cities and villages in the county employ a manager or administrator.