Yorktown Town Board Approvess New K-9
We are part of The Trust Project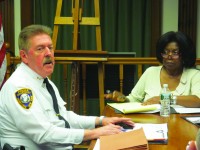 Last week the Yorktown Town Board approved the purchase of a new K-9 dog to serve alongside a Yorktown Police Department officer — an expense that will likely run about $10,000.
The move came after one of the department's two dogs, Caesar, died earlier this month from kidney disease complications.
Speaking to the town board Tuesday, Police Chief Daniel McMahon said the dog is a worthwhile investment for Yorktown.
"If you had a large building or a warehouse where the alarm goes off, that's when the K-9 comes in handy," he said. "They are valuable. We have had very good service from all our dogs."
McMahon said the department has had two dogs serving concurrently since the 1970s and often loans them out to neighboring police departments or brings them to schools to conduct demonstrations.
"It's a tool for us to use, and when you do need them, they're invaluable," he said.
That explanation seemed to satisfy Yorktown Supervisor Michael Grace, who advocated allowing the purchase.
"That's good enough for me," he said.
Councilman Terrence Murphy said the dogs didn't have to do much to justify their usefulness to him.
"One save, it's worth it. And it already has been," he said.
The board also heard about potential updates to the habitual barking dogs and unreasonable noise ordinances — changes that would attempt to quantify a decibel level at which the noise became inappropriate.
"The law's also extremely vague in that it said 'unreasonable' — you can't define that," McMahon said.
The town board also unanimously approved the addition of a lifeguard to Sparkle Lake, at a cost of $18,000, despite the Parks and Recreation Department recommending against it.
"In the interest of public safety, we just added an additional dog," Councilman Dave Paganelli said. "My feeling is, if we are providing a lifeguard and it's helpful to a mom who has three kids, then I'm OK with it."