Yorktown Stage to Perform Iconic 'Bawdy' Musical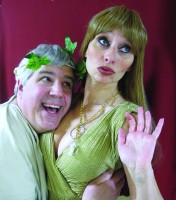 Yorktown residents will get a taste of Broadway next weekend as Yorktown Stage goes more "bawdy" than usual with its production of the classic comedy "A Funny Thing Happened on the Way to the Forum."
The 1960 musical, which won four Tony Awards in its initial theatrical run, starred Zero Mostel and tells the story of a Roman slave who attempts to win his freedom by helping his master woo a woman.
"It is a bawdy show — there are six courtesans in the show, but that's the way it's written," said Barry Liebman, who stars in, directs and produces the show and is the executive producer of Yorktown Stage.
Liebman said children younger than eight should not attend the show — a break from the company's usual slate of family-focused programming.
"It is not the usual, 'Let us make a great production out of what is a children's show,' " Liebman said. "This is part of a series we would like to do for people who would really like to see some great theater that's not family-oriented, that's not for six-year-olds."
The show will be performed at 7:30 p.m. on April 14 and April 21, and at 2 p.m. on April 15 and April 22 at Yorktown Stage, 1974 Commerce Street in Yorktown Heights. Tickets range between $19 and $26.
Much of the musical revolves around mistaken identity, which Liebman said provides an added layer of humor for the audience.
"It's like a Shakespeare comedy of errors. One thing leads to another, and everything goes wrong along the way," he said.
Though the production is based in Westchester, Liebman said the audience can expect a Broadway-quality experience if they attend.
"It's as good as Broadway — we think it is as good a satisfaction as you'd get on Broadway," he said. "The truth of the matter is we leave very few stones unturned and we get great talent. It's a Broadway experience on a Yorktown stage."
The cast of 18 hails from throughout the region, he added.
"It is a pretty handpicked cast of all of what I consider to be the best talent in Westchester County and New York City," Liebman said. "People we know create great characters and are really able to get to the gist of the comic performances."
What it boils down to, Liebman said, is that Yorktown Stage's version of "A Funny Thing Happened on the Way to the Forum" is a great production of an iconic show.
"It's probably one of the funniest shows that's ever been on Broadway," he said.
More information is available on the theatre troupe's website: www.yorktownstage.org.