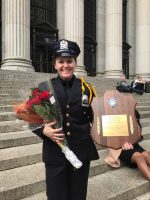 By Michael Giuliano – The New York City Police Academy held its graduation ceremony on October 23, and Yorktown resident Kristen Boyle stood proud as their valedictorian.
In front of 433 other graduates, Boyle, a 2012 graduate of Yorktown High School, gave a speech that thanked the superior officers and instructors from the academy for their guidance, but also reflected on the changes that all recruits went through during their six-month training.
"I will forever cherish the memories we made together," Boyle said, recalling various incidents that took place during training. "Struggling up the staircase way behind Sergeant Dowling, running the exertion course in the pouring rain, and always looking for the constant validation that we were, in fact, Sergeant Fletcher's favorite company ever."
At the graduation ceremony, Boyle was surrounded by close friends and family, who came from all over New York State to see the momentous occasion.
"It's something she's always wanted," said Angela Boyle, her mother. "She's always been a hard worker, and now it's paid off. She's setting a great example for [her brother and sister] Pat and Kayla."
Boyle, who graduated from SUNY Cortland in 2015 with a Bachelor of Arts in Sociology and a Minor in Economics, said that while her life has led her in several directions, law enforcement always captured her interest.
"I grew up with Nancy Drew and Scooby-Doo," she said, laughing. "But I wanted to have a career that meant something, where I was doing something meaningful and different every day."
Prior to her admission into the academy, Boyle underwent rigorous personal training to help get into peak physical shape. In addition to learning kickboxing and Brazilian Jiu Jitsu from Elite Defensive Tactics in Yorktown, Boyle took up Crossfit, a high-intensity exercise program that incorporates elements of aerobics, calisthenics, and weightlifting. Boyle credits that training with making her more prepared for what the NYPD calls their "Job Standards Test," the most trying and exhausting tasks being the unassisted climb of a six-foot wall, as well as dragging a 175-pound dummy for 35 feet. Even with all of her preparation, though, Boyle said she still had to adjust to the rough-and-tumble lifestyle that the academy pushes.
"The hardest part was adjusting to the paramilitary aspect of it all," Boyle said. "There were a lot of rules, and always a lot of yelling going on."
As valedictorian, Boyle was given the gift of being able to choose which precinct she would like to be stationed in after graduation. After taking time to make her decision, Boyle settled on the 14th Precinct in Manhattan, more commonly referred to as "Midtown South." Located on 35th Street and 9th Avenue, the precinct enforces some of the busiest sections of Manhattan, including Times Square, Madison Square Garden, Penn Station, and Grand Central Terminal.
"It's a busy precinct, and you're constantly taking on new jobs" Boyle said, regarding her decision. "But you also get the best details in the city for grand openings, parades, and special events. It's a front row seat to the greatest show on earth!"
When asked if she had any advice for anybody going into the academy, or considering joining the ranks of the NYPD, Boyle stressed the importance of making friends with your fellow recruits; something she reflected upon in her speech.
"We started as individuals but ended as a family," Boyle said in her commencement speech. "I think every officer in here can look into the eyes of their brother or sister next to them and see someone they know is going to sacrifice themselves for this family."