Yorktown Dems' Slate Looks Forward to 2021 Campaign
The Yorktown Democratic slate officially kicked off its 2021 campaign last Wednesday by touting experience with a vision to move the town forward.
Gathered in a parking lot on Kear Street, the candidates received a boost from some prominent elected officials, including State Senator Pete Harckham and Westchester County Executive George Latimer, who is seeking a second term himself in November.
"When you are in public office, you have to be able to tell the truth to people. You can't pander to public opinion," said Latimer, who ousted Republican Rob Astorino in 2017. "We stand in the world of practical and progressive government."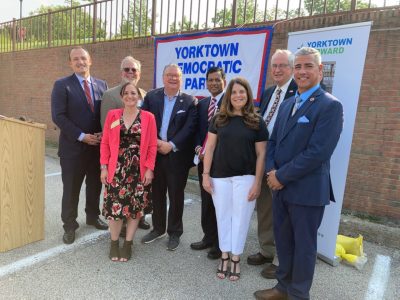 "We are talking about extremely qualified candidates," Harckham said. "We have superior candidates who have given themselves to this town."
While the Democrats chose not to challenge Supervisor Matt Slater this year, they are setting their sights on retaining the two seats they currently hold on the Town Board.
Councilman Vishnu Patel, a retired, award-winning scientist at IBM for 36 years, is vying for a fourth four-year term. He maintained residents benefit by a well-rounded board that's not dominated by one political party.
"I have experience serving under both Republicans and Democrats," Patel said. "There is no Democratic way to pick up the garbage or Republican way to pave the roads. It's about doing the right thing. I have always spoken out against expensive, unnecessary projects and I will continue to speak out against unnecessary spending."
Former Supervisor Ilan (Lanny Gilbert), who served one term leading the town before losing to Slater in 2019, is looking to return to town government in the seat being vacated by Councilwoman Alice Roker.
"I only had two years. I want to follow up with some of the initiatives that I started," said Gilbert, who is also a former town justice. "We as a group have a track record like no other. We bring experience to the table like nobody's business."
As Gilbert spoke, former Supervisor Michael Grace, who was defeated by Gilbert in 2017, was lurking in the background on his way to a Republican fundraiser being held in a restaurant a stone's throw away.
"We have integrity. We will devote ourselves 24/7 to our residents. This is not a part-time job like it is to our opponents," Gilbert remarked. "We will always extend our arms across the aisle, as long as our principles are not compromised. Listening to all ideas helps you think outside the box."
The Yorktown Republican Committee endorsed Sergio Esposito, president of the Yorktown Chamber of Commerce, and Luciana Haughwout, a small business owner, to run for Town Board.
Meanwhile, Aviah Cohen Pierson is trying to follow in her dad's footsteps and become the first female town justice in Yorktown's history. Her father, Jeffrey Cohen, served 16 years as a town justice.
"It's incredible it has happened yet. I'm hoping to be the first," Cohen Pierson said of her chance to break the gender barrier.
Cohen Pierson has practiced law as a litigator in both state and federal court. As a court attorney, she mediated disputes and handled motion practice. She now serves as Chief Legal Officer for ENT and Allergy Associates, LLP, a 1,200-employee medical practice. She also brought the Lawyer in the Classroom program to fifth graders in the Yorktown School District.
Current Republican Town Justice Sal Lagonia is not seeking reelection.
Westchester County legislators Vedat Gashi and Colin Smith were also on hand as they both are running for their second two-year terms.
Roker, who served 26 years as Yorktown's town clerk before being elected to the Town Board in 2017, lent her support to the ticket and spoke of the qualities Patel and Gilbert possess.
"Vishnu Patel is not only the smartest man that I know. He also won't let people play him at Town Hall, and that's a big deal," said Roker. "Lanny started many of the projects that have come to completion in the last two years, but doesn't get any of the credit."