York's Choice for Undersheriff Attached to Deskovic Case
We are part of The Trust Project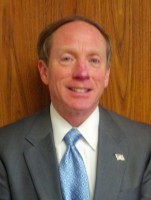 When Chief Assistant District Attorney Christopher York announced his bid against incumbent Don Smith for sheriff recently, he mentioned that Eugene Tumolo would be his choice for undersheriff.
Tumolo, a Mahopac resident who retired from the Peekskill Police Force in December, is a defendant in the Jeffery Deskovic v. City of Peekskill case, which pertains to the "wrongful arrest, conviction and incarceration of Deskovic." He is also involved in a second case D.S. v. City of Peekskill, filed on June 5, 2012, which claims that Tumolo and other parties "illegally disclosed sealed criminal records."
Deskovic spent 16 years in jail for the murder and rape of Angela Correa, a crime he did not commit.
In a 2007 report, prepared by a group of experts at the request of Westchester County District Attorney Janet DiFiore, it list errors made by the police and prosecution during the investigation which include: police & prosecutorial tunnel vision, selective recording of Deskovic's statements, troubling police tactics and carelessness or misconduct in the police investigation.
Tumolo, who at the time was a lieutenant, was the person that the detectives' answered to. Court documents also note his presence during numerous interrogations of Deskovic.
Court reports indicate that "Tumolo stated in a letter to the Putnam County Sheriff, written after the polygraph, that he asked [Daniel] Stephen to polygraph Deskovic after '[s]everal interviews with [Deskovic] failed to produce a confession vital to this case as a lack of physical evidence , witnesses or investigative leads has critically hampered its progress.'"
In 2011, Deskovic was granted $1.85 million from New York State for wrongful imprisonment. He was also awarded $6.5 million in a federal civil-rights lawsuit against Westchester County that same year. Deskovic's lawsuit against Peekskill, Tumolo and others is still pending.
"I am familiar with that case," said York. "Gene was a big believer, early on of getting the DNA. Unfortunately though at the time the technology did not exist around here. The FBI couldn't do it.
"I believe [Tumolo] made a strong case to the district attorney's office that there should be more before the case proceeded, but George Bolen, the case prosecutor at the time made the decision to go ahead despite Gene's recommendation," said York.
However the court reports state, "Peekskill officers… in mid-January 1990 twice sought permission from the District Attorney's office to make an arrest, but were told their evidence was insufficient to support an arrest."
York, who has been a prosecutor for over 30 years, said Tumolo would "be the most likely candidate to be his undersheriff because of the way we worked together on [a murder case in 1996]."
York said that he admired the way Tumolo ran the department. "He knew what was going on," York said. "His men had a spree demeanor. The men liked coming to work, which is something sadly lacking in the sheriff 's department."
Sheriff Smith said that he was concerned with York's inexperience is overseeing a major department.
"In his narrow niche as a prosecutor, Mr. York has done a satisfactory job in many cases he has handled, but he has had essentially no operational leadership and management experience of the kind that is required to run a large, complex agency like the Putnam County Sheriff 's Office," said Smith.
Smith claimed there has been a "lack of strong prosecution of cases during Mr. York's watch as chief assistant district attorney." He said that too many cases were plea-bargained down from felonies to misdemeanors while others laced "timely prosecution."
Also running in the sheriff 's race is retired MTA Police Chief Kevin McConville.
"I would not be choosing an undersheriff that is in the middle of litigation," said McConville. "It is a distraction that takes the focus away from the issues."
While McConville would not name anyone in particular as his undersheriff he said that if elected to be sheriff he would appoint a person who has experience as a corrections officer, patrol officer, narcotics detective and counterterrorism on a federal level.