YMCA of Central and Northern Westchester Cultivates Next Generation of Elected Officials
We are part of The Trust Project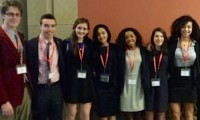 The YMCA of Central and Northern Westchester recently guided 10 teens on a journey through a mock legislative process that ended with their bill concerning lowering the State drinking age for beer and wine from 21 to 18 passing with flying colors. It is now headed to the desks of New York State legislators.
These 10 students are members of the YMCA Youth and Government program, a national YMCA program offering teens the opportunity to get a first-hand look at their government on a state level. The program teaches decision-making, meeting deadlines, and being able to speak with confidence about subject matter for which the students have a passion.
According to program director Cassandra Martell the drinking age was a topic the group felt strongly about. They wanted to give people the rights they felt were deserved. They wanted the age to be reduced back to 18 years old.
The students met about once a week for one hour at the YMCA in White Plains, where they worked at creating the bill to be submitted to the Model Legislature.
"There is a guideline that the teens follow in order to write the bill, which is looked over by a lawyer prior to submission. It is also required that they amend existing legislation. It is their job to find the legislation and properly cite the amendments based on the guidelines they are given," Martell explained.
The students travel to Albany to present their bills to other teens, debate on them, and have their bill passed or failed.
"Each state program elects its own "Youth Governor" when a bill is passed through the teen chambers, who signs off on the bill, which is then automatically sent with other passed bills to the state assembly. Some bills get picked up and supported and others do not. We do not find out about it until it is a law. Some laws that have originated in New York from the program (but not from the Westchester group) are the "Click it or Ticket" law, the Right Turn on Red law and the No Texting while Driving law," Martell said.
Westchester's 10 teens joined 550 teens from around the state and attended the 78th New York State YMCA Youth and Government Conference in early March. This is one of 38 state conferences, which culminates in a Conference on National Affairs, which picks 20 students per state, and 20 as alternates. Kristin Sutton of White Plains High School was selected to represent New York and Nina Tucker also a White Plains High School student was selected as an alternate.
"The teens are chosen based on their work in their home clubs, but mostly on the way they carry themselves and work during the conference," Martell explained. "The award they receive is a very coveted spot as one of the 20 teens from New York State selected to represent us at the National Conference. The runner up gets the same recognition and is chosen in case some people cannot attend."
"We are the only Youth and Government Program in Westchester County," Martell continued. "Any teen who is currently enrolled and actively attending grades 9-12 is able to join the program at no cost to them. Our program gets rolling in the beginning of September and registration closes in the beginning of October."
To find out more about this and other YMCA programs, please contact call 914 943 9898 or visit www.ymca-cnw.org.