YMCA Fire Displaces 100, Two Reported Dead
We are part of The Trust Project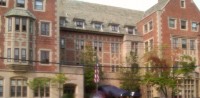 White Plains Police are investigating a possible murder-suicide-arson after an early morning fire broke out on the third floor of the YMCA residences on Mamaroneck Avenue in White Plains left two men dead.
News reports quoted Public Safety Commissioner David Chong as saying that when the fire was extinguished one body was found in a residential room and the other behind the front desk in the lobby. Because the situation has been determined to be a murder-suicide, Chong said no further suspects are being sought.
Over 100 residents in the YMCA building were evacuated and a temporary shelter has been set up at the White Plains Senior Center on Mitchel Place by the Red Cross.
White Plains Mayor Tom Roach released the following statement: " I offer my condolences to the family and loved ones of the victim of this terrible crime. Our thoughts and prayers are with them today and in the days ahead. I would also like to express my appreciation for the efforts of our Public Safety Department, Police and Fire, who responded quickly and professionally to the scene, and extinguished the fire preventing any additional loss of life."
Six firefighters were treated for minor injuries at White Plains Hospital. Units from neighboring Westchester communities responded, providing mutual aid in fighting the fire.