X-Treme Tanning, Ossining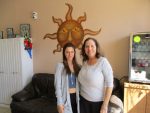 Donna Smith of Ossining took ownership of X-Treme Tanning in Ossining on Dec. 1, in the Croton Avenue building which previously also housed a tanning facility.
Smith also owns another tanning salon, Sole' Tan, in Yorktown.
Smith said when she began in the tanning industry about 12 years ago "it was a good business." But today there are challenges to tanning businesses in the state. "But now with all the laws and the regulations we're very restricted. Our hands are tied as to a lot of things."
Smith, who is a cosmetician, said tanning facilities are required to have a state Board of Health permit that must be renewed every other year. The facilities are also regulated by Westchester County. "Every two months we get inspected by the county," Smith said. "They come in with minors to see if we're going to tan them."
Tanning facilities in the state cannot provide services to youths under 18, with the exception of 17-year-olds who have parental permission, Smith said.
"My personal feeling is the pharmaceutical companies are behind the push to get us out of business because if you're putting SPF (sun block) all over your body you wouldn't be coming here tanning," Smith said. "Your skin is the largest organ of your body.  And if you're putting SPF all over it your liver and kidneys are being affected by the SPF."
Smith added that SPF is flammable and persons who have had the substance on their bodies have in some instances been accidentally caught on fire. "Crazy things have happened," she said.
Even with all the new rules, tanning is still "a good business to be in," Smith said.  She added, "We just have to be very careful today."
Smith said the services provided by tanning studios are beneficial. "This is a controlled, responsible environment," she said. "Our objective is to prevent sunburn. So if you were to go away on vacation you can get a base tan here so you don't burn."
\Smith said with her new machines the facility provides many spray tans. Smith and some of her staff are certified to spray. Customers can also be machine sprayed in booths dedicated for that purpose, she said.
Customers can also receive ultraviolet tans at X-Treme. "We have different levels of beds. So we start you off in the lowest level to build a base tan," Smith said.
Many of her customers have been regulars at the facility since it opened under different management in 2002, Smith said. "They're very loyal, faithful customers. We just hope that we can keep them happy and tan," she said.
X-Treme Tanning is located at 173 Croton Ave. in Ossining. For more information call 914-923-8100 or visit its Facebook page.