WPPAC's Production of Sweeney Todd, the Demon Barber of Fleet Street
We are part of The Trust Project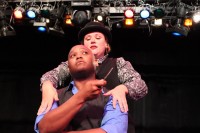 Perfectly timed for an autumn run with Halloween fright and horror in the air, White Plains Performing Arts Center's production of Sweeney Todd, the Demon Barber of Fleet Street is a chilling thrill of an evening.
The eerie feel begins as you walk through the front doors of the theater – but we won't tell you why or how, you are just going to have to go see for yourself. We guarantee though, it will be a night you will remember.
A musical thriller, Sweeney Todd tells the infamous tale of an unjustly exiled barber who returns to 19th century London seeking revenge against the vile judge who robbed him of his family. This provocative, new production allows the audience a glimpse inside the psychosis of a man driven to the edge when he loses everything.
A new vision of a modern classic, reimagined and directed by WPPAC Artistic Director Jeremy Quinn pushes the edge, as Quinn is known to do. Very well executed, it works whether you are familiar with the story or not.
Steven Rich, who plays Sweeney Todd, is as superb as ever. WPPAC could create a show for this one performer to sing and audiences would be happy to sit for hours listening to his amazing voice.
Cassie Hohn, playing Mrs. Lovett, Todd's sinisterly depraved accomplice, is excellent in the role and helps to carry the story along as she very believably finds a way to create the most tasty pies in all of London.
Each of the actors has developed just the right amount of tick and tremble to their movements, a certain cock of the head, a blankness to the stare, a shrill to the scream to put the audience right at the scene of the insanity taking place in an imaginary London.
If you are looking for an eerie Halloween-style adventure, be sure to make this show one of your scheduled stops this month.
Tickets are $50 for adults, $30 students aged 22 and younger. Visit http://wppac.com/shows/sweeney-todd/ for more information and to purchase tickets. WPPAC is located at the City Center in downtown White Plains.