WPHS Lacrosse-Boys Make Semifinals: Girls Lose in First Round
We are part of The Trust Project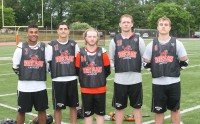 White Plains High School, the number three-seed in the Section 1 Class A Lacrosse Playoffs, had a convincing win against the number six-seed North Rockland High School, 19-11, in the Section 1 Quarterfinals, at North Rockland, on Saturday, May 16.
Tigers junior Liam Broderick weaved through the North Rockland defense to score seven goals, as the Raiders concentrated on stopping the Tigers huge attackmen, Brendan Johnson and Kevin Trapp. "They were locking-off Brendan which left a lot of space on the left side to just doge and move and that was exactly what we did," commented Broderick.
However, despite the Raiders staunch defense, Johnson was able to score five goals in the game, which made him the Tigers All-Time Leading Single Season Scorer with 67 goals. "It feels good. It is a goal of mine to be one of the top players in the school and I feel we are doing pretty well as a team as well," said Johnson, who will return next year for his senior season. Trapp will follow in his older brother Michael's footsteps and play Lacrosse for Washington College, in September.
The Tigers win against the Raiders in the Quarterfinals, matched them up against the number two-seeded neighboring Mamaroneck High School in the Semifinals, at Mamaroneck, on Tuesday, May 19.
The White Plains Tigers did not fare as well against the Mamaroneck Tigers, losing, 19-8, in the Section 1 Class A Semifinals, which ended their 2015 season with a, 13-5 record. Mamaroneck (13-6) went on to beat Mahopac High School, 12-11 in overtime to capture the Section 1 Class A Title, at White Plains High School, on Thursday, May 21.
The Tigers, 13-5 record this season encompassed one of the most productive offenses that White Plains Boys Lacrosse has ever assembled. "Statistically concerning White Plains this has been our best offense, most goals scored, and most goals scored per game. I think we were only held under double-digit scoring a couple of times this year, " said Tigers Head Coach Mark Armogida, who will return next season for his 15th year as Varsity Lacrosse Head Coach and his 28th year total (13 years J.V. Coach) coaching Lacrosse at WPHS.
The number seven seeded White Plains High School Girls Lacrosse Team concluded their 2015 campaign when they were stopped by the number two-seed North Rockland High School, 8-7, in the Quarterfinals of the Section 1 Playoffs, on May 16, in North Rockland.