WPHS Junior Makes Chess History on the Way to Grandmaster Goal
We are part of The Trust Project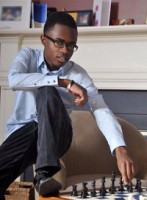 Joshua Colas, a junior at White Plains High School, has become a media star overnight. By going undefeated in the 11th Grade National Chess Championships in Florida last week, he gained immediate fame with interviews on Fox News, The New York Times, The Huffington Post and other news agencies.
Colas is a 16-year-old with a motivating story and a goal – a very high goal – and one that he seems to be on the way to achieving.
When Colas was 12 he won the title of youngest African American chess master. On December 14, he went undefeated in his category at the National Chess Championships, winning for the second consecutive year. His next goal is to become the youngest African American chess grandmaster in history.
Only one African American, Maurice Ashley, has attained grandmaster ranking. He was 34 at the time.
To achieve his goal, Colas must travel the country, and the world, competing in championship events. He has set up a website at joshuacolas.com to raise funds to keep him on the journey.
On the way, Joshua was taught chess by his father, a Haitian immigrant, who began playing with his son when he was seven.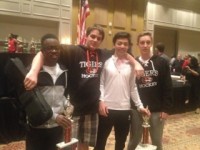 Today Colas tests his skills against Tigers teammates Michael Ainsworth, Christopher Tortoriello and Taikan Nakada, all juniors at White Plains High School. They are supervised by a volunteer chess coordinator.
And what a four-man team they are. Colas is a future grandmaster. Ainsworth is the starting shortstop on the WPHS Varsity Baseball team. Nakada is the top golfer at WPHS and has been named to the All-Section Golf Team. He hopes to play Division 1 golf in college. And, Tortoriello is a 6-foot 2-inch 220-pound defensemen on the WPHS Varsity Hockey Team.
Along with their athletic prowess they are applying to Ivy League colleges with the strong possibility of being accepted at such institutions as MIT, Webster University, Penn State and Northeastern.
Before setting off to the Florida championships, they were the #2 seeded chess team in the nation. They had high hopes to win the championship overall.
Their biggest obstacle to overcome was NYC Stuyvesant High School, which they lost the championship to by one heartbreaking point. Both teams tied going into the final round. "Stuyvesant is a tough team. They have a long tradition. They're also a deep team. We brought four kids to compete, they brought 12. Regardless, we were tied with them going into the 7th and final round, but we just came up a little short in the end," the WPHS chess coordinator said.
While Colas finished 1st in the nation last weekend, Ainsworth finished 8th, including a victory over a former national champion from Georgia.
Ainsworth and Colas have been playing together since third grade. They both led Mamaroneck Avenue School to the 5th Grade National Championship back in 2008. Ridgeway Elementary School alums Tortoriello and Nakada joined them at WPHS.
Colas leaves for Las Vegas this Friday to compete in the 2014 North American Open. This is one of the major tournaments on his schedule where he'll get the opportunity to compete against some of the top grandmasters in the nation.
His Tigers teammates are behind him all the way.
The online campaign ends on December 26. Visit www.JoshuaColas.com to find out more about Joshua Colas and help out.