WP Outdoor Arts Festival this Weekend and Art Scholarships
We are part of The Trust Project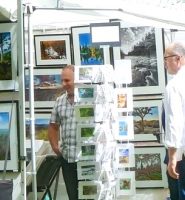 In 2018 White Plains Outdoor Arts Festival (WPOAF) will award $10,500 in scholarships to White Plains High School students. Five winners were selected from 16 applicants – all were very talented and all presented socially conscious works.
The 2018 WPOAF Art Scholarship winners are:
Lindsay Smith, a budding DaVinci, melding art and science in her work and in her conviction that they are symbiotic parts of the natural world. She uses her creative talents to express and illuminate the human existence within the universe … both the poetic universe and the more literal space. The originality of her concepts, her independent thinking, and her self-reliant work make her unique among her peers.
Kelly Marx tells poignant stories of all living creatures through her photographs. The first step in bettering the world is understanding it. Hers is a path of service, including others in her enlightenment. Her photos are beautifully composed, clear expressions of her concepts. Her juxtapositions of the uses of gold in Ghana and in Thailand illuminate both human oppression and joy. As a photojournalist, Kelly will shine a spotlight on formative moments in time, bringing the world closer together.
Jackii Torres has the mind, soul, and drive of a true advocate. Her paintings, drawings and photos eloquently explore her passions of gender roles and equality as well as environmental issues. Her focus, strength of composition, and sense of humor make her statements clear. Her plan to earn her BFA in photography demonstrates her commitment to honing her skills as a means of political expression.
Lauren Reid's paintings are raw and emotional, using the many colors of the human psyche. Painting for just over one year, Lauren is compelled to share her own and others' emotions. The emotions are reality to her, not the human façade. After pursuing a double major in Art and Psychology, she plans to get her Masters' Degree in art therapy. Her education will prepare her to share with others her understanding of human reality as well as the release which creating art provides.
Allison Lambert's talents as a watercolorist are absolutely compelling. She has recently decided to share with the world the artistic expressions she has been holding private for years. Nature and a simple life are the subjects she treasures. They are her nourishment, and their promulgation and protection are her purpose. Having already been accepted by the School of the Art Institute of Chicago, Allie will first spend a gap year living this simple life in the Vanguard Program of Wharton College.
The scholarship winners' work will be exhibited during the 56th Annual Outdoor Arts Festival, Saturday, June 2 and Sunday, June 3 in Tibbits Park, White Plains.