Woofstock Returns to Sycamore Park this Weekend
We are part of The Trust Project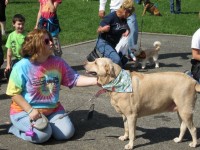 Hot diggity dog!  Due to popular demand, another muttley mingle is in order! Sycamore Park is going to the dogs at WOOFSTOCK 2012 from 11 a.m. to 4 p.m. on Sunday, June 10, rain or shine. This family and four-legged best friend event is being hosted by the non profit Friends of Sycamore Dog Park, Inc.
The park-wide event will include a "Grateful Dog Walkway," demonstrations by disc and fly-ball dogs, local vendors, animal rescue groups with adoptable dogs, dog micro-chipping, a "Doggy Chill Zone" and "Peace Dog Café," tie-dyeing, musical entertainment throughout the day, children's entertainment, on-site children's fingerprinting, photo booths, food and more.
But don't fret if you are without a furry friend.  WOOFSTOCK is about parents and pawrents coming together with their brood, furry or not, in peace, harmony and puppy love and everyone is invited to come and join the fun.
In a cooperative collaboration with the Carmel Parks and Recreation Department, the Friends of Sycamore Dog Park, Inc. helps to manage the dog park and seeks to educate the members and the community about appropriate dog park etiquette, responsible dog ownership as well as provide assistance to local rescue groups and dog-related businesses. Funds raised will assist these local rescue groups and make improvements to the park.
Robert Wachtel, who is one of the organizers of the event said this year educational outreach would focus on the so-called "bully breeds; specifically, the "misunderstood" pitbull.
Admission is $1 per person. Get out those bell-bottoms, tie-dye shirts and love beads, put a flower in your hair and join us.
For more information, go to www.sycamorebarkpark.com or e-mail woofstockny@yahoo.com