Woodlands boys can't stay with Croton; Falcons drop 2-1 decision to Hamilton
We are part of The Trust Project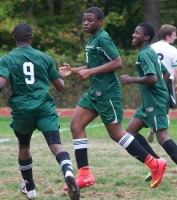 The Woodlands High boys soccer team had a pair of tough games last week, and while the Falcons played well in one of those contests, they still came away with a pair of losses for their efforts.
Woodlands opened the week last Tuesday at home with a 2-1 loss to Alexander Hamilton, then traveled to Croton Thursday, and dropped an 8-1 decision.
Thursday at Croton-Harmon's Spencer Field, the Tigers dominated play, building a 4-1 lead by halftime.
By the time Nile Williams found the back of the net with the Falcons' first goal – on a pretty header from close range in the 33rd minute, assisted by Weston Maxwell – his team was already trailing by four.
"It was a tough game," Falcons coach Colin Hemmings said. "After giving up a goal in the third minute of the game – on a defensive error – we're now chasing, trying to adjust. We also had some injuries to a few of our starters.
"Croton is a quality team," Hemmings added, "but we played another quality team close a few days earlier, and lost 2-1. We also had a few yellow cards, and played short because of a red card late in the game."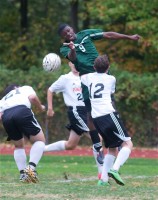 Andres Espinoza had four saves and Edison Pintado had three for Woodlands, and David Mandelbaum stopped four shots on goal for the Tigers.
"Nile played well for us," Hemmings said of the junior standout. "He played defense for us, and had a strong game… he was an aerial monster in the game."
The Falcons played better – possibly their best game of the season, according to Hemmings – two days earlier at home against Hamilton.
Woodlands trailed 1-0 at halftime, and 2-0 by the time the Falcons got a goal – on a ball knocked in by a Hamilton defender – with 17 minutes left to play.
"We had chances to equalize, but we couldn't pull through," Hemmings said. "Hamilton is a very good team, and I think that was the best game we've played all season. It was quality competition, and we gave all we could. Most of our players had an excellent game."
The Falcons' lone goal came off a free kick. "Prince (Kermue) had a free kick, and the defender knocked it in trying to clear it out," Hemmings explained.
"Our senior defenders, Awa Nyambi and Prince, have done well," the coach said. "Prince has been our top scorer the last two years, and he's playing defense because of the quality teams… they're both good defenders. And Akibo Watson also played tough for us, he showed a new dimension on defense. Our defense, all season, has played well."
Woodlands was set to travel to face the Yonkers Montessori Academy Friday at 4:30 p.m.