With Opinions Split, Marijuana Legalization Debated in Mahopac
We are part of The Trust Project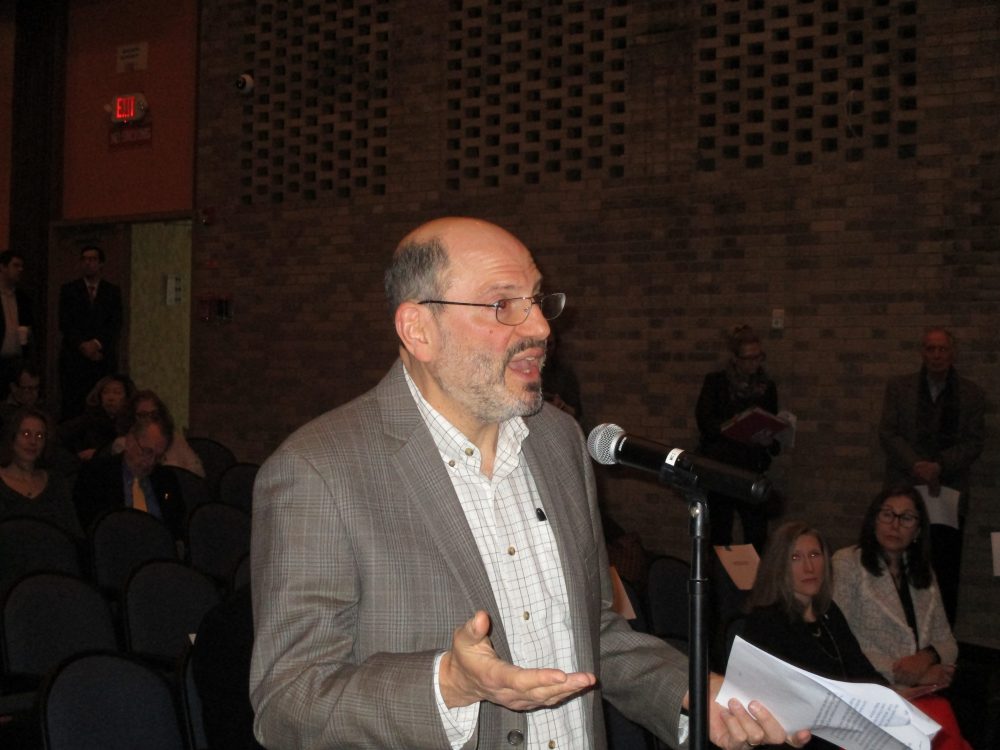 State legislation that would legalize the recreational use of marijuana has been hotly debated with no shortage of opinions during a forum last week in Mahopac.
The forum was hosted by state Sen. Peter Harckham, chairman of the Senate Committee on Alcoholism and Substance Abuse. Harckham, a Democrat, was joined by Assemblyman Kevin Byrne, a Republican, as opinions about legalization were split during the event, with speakers from Putnam and Westchester counties. About 50 people attended the Friday night forum at Mahopac High School.
Roger Green, executive director of the Hudson Valley chapter of National Organization for the Reform of Marijuana Laws (NORML), said he supported legalization. Green said in states that have legalized the recreational use of marijuana drug use by youths has not increased.
Legalizing marijuana would regulate what is in it, Green said. Synthetic marijuana, which has posed dangers to users, could be barred if marijuana was regulated, he said.
Stephanie Marquesano, founder and president of the Harris Project, opposed marijuana legalization. Marquesano said she lost her 19-year-old son Harris as a result of co-occurring disorders in 2013. COD is the combination of one or more mental health challenges and substance misuse and/or addiction, according to the Harris Project Web site.
The human brain develops until the age of 25 and the use of marijuana could pose a danger to youths, Marquesano said. "This is a single request – slow down," she said state legislators should be told.
Another legalization opponent was former Carmel supervisor Frank Del Campo, who said Gov. Andrew Cuomo conveyed the state would receive $300 million in tax revenue if recreational marijuana use was legalized. But Cuomo did not take into account the added healthcare costs for those who experience difficulties as a result of marijuana use, Delcampo said.
Del Campo, who said he has been an educator for 34 years, said youths who use marijuana will move on to "more and more dangerous drugs."
Lewisboro Supervisor Peter Parsons said he supported legalization. If marijuana was not legalized New York State residents would be able to purchase it from several surrounding states including Rhode Island, Massachusetts and potentially New Jersey, which is considering legalization, he said.
Pleasantville resident John Mueller, who opposed legalization, said his village recently passed legislation to ban the sale of marijuana in his village. Mueller said large corporations would get into the marijuana business if the substance was legalized. "It's not going to be mom and pop shops," he said.
Mount Pleasant Police Chief Paul Oliva said police chiefs from Westchester County recently held a press conference to express their opposition to legalization.
"It's based on public safety," Oliva said.
Unlike marijuana that was used in the past, "It's a lot more potent than it used to be," Oliva said.