White Plains Tigers Pioneer League Homecoming Basketball Game
We are part of The Trust Project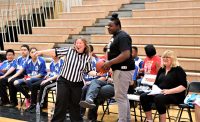 On Thursday, April 26, the walls in the corridor of White Plains High School on the way to the Harry Jefferson Gym were lined with posters welcoming the visiting teams and featuring the players of the White Plains High School Special Olympics Basketball Team.
The players from the Tigers Special Olympics Basketball Team drew and colored the posters to celebrate the Seventh Annual WPHS Special Olympics Pioneer League Homecoming Basketball Game.
The Tigers welcomed the Special Olympics Teams from Port Chester and Sleepy Hollow High Schools to a Round Robin contest, which has become a signature event the past seven years. "The players love it. They love the attention and to see their classmates come out to support them. They also love to be acknowledged because these students are not always acknowledged. It is great," stated Kevin Brown, the Head Coach WPHS Special Olympics Team, who also teaches a Work Experience Class for Special Education Students and a Global History Class for higher functioning Special Ed Students.
Brown is aided by his Assistant Coach Mike Beaton, who is also a Teacher's Assistant in the Strategies for Adult Independent Learning (SAIL) Program at WPHS. Dave Sheridan and Chris Wagner are the coaches of the Port Chester Pioneer League Team and Kim Kaczmarek is the Head Coach of the Horsemen Team.
Alex Mayeri, who played on the Tigers Varsity Basketball Team, volunteered as the Public Address Announcer for the game. Many Tigers coaches and players from baseball, lacrosse, softball, wrestling and other sports attended to pay tribute to the Special Olympic Athletes.
Brown presented Certificates of Recognition to the senior players from all the teams and read the Special Olympics Oath with them before the game. "Let me win. But if I cannot win, let me be brave in the attempt," read aloud the honored seniors.
"Watching our Special Olympic athletes and the athletes from Port Chester and Sleepy Hollow exhibit good will and sportsmanship makes this Homecoming Game one of my favorite events all year," said WPHS Principal Ellen Doherty. WPHS Athletic Director Matt Cameron supervised the festivities.
The Pioneer League Homecoming Round Robin was a back-and-forth competitive contest with Special Olympic players positioning for shots and playing staunch defense. Tigers guard Casey Curry would not be denied her shot and forward Zulu Jean was under the basket grabbing rebounds. Tigers point guard Marc Toribio was the floor general and Andres Sanchez scored consistently from the perimeter.
However, the impact player of the Homecoming Game was Tigers Shane Johnson, who turned the momentum of the game in the host team's favor when he came off the bench. Standout players for Port Chester included forward Rafael Reis and guard Sthoycok Matute and for Sleepy Hollow forward Daron Adu-Mensah and Rahinelka Rodriguez.
The players and coaches who participated in the WPHS Special Olympics Homecoming Basketball Game lined the baseline for sportsmanship handshakes after the game. Then pizza, juice, bottled water and cake highlighted the postgame menu!