White Plains Student Finalist in Intel Talent Search
We are part of The Trust Project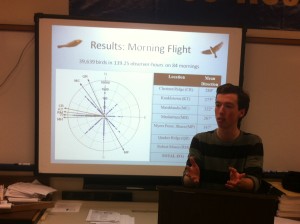 Benjamin Van Doren, a Cornell-bound senior at White Plains High School, has been selected as a finalist in the 2012 Intel Science Talent Search and will be headed to Washington, D.C. While the school has had 16 semifinalists since 2000, Van Doren is its first finalist.
Van Doren has been working on his project, entitled "Meteorological, Topographical and Behavioral Correlates of Diurnal Autumn Morning Flight Migration in the Northeastern United States," since sophomore year. His goal has been to shed light on the migration of birds; specifically, why they often travel long distances in one direction overnight before traveling in another direction during the day.
"For example, if birds would typically migrate Southwest in the fall at night, the following morning they might be seen migrating West or Northwest or North. My study was trying to look at and examine the particular triggers and functions of this unusual behavior," Van Doren explained. "I've always been into birds, and migration is a facet that's always fascinated me. It has for a while."
Van Doren did the project for the school's Science Research Program, a three-year program in which students have the chance to study a topic in depth and conduct experiments and analysis. There are 64 students at White Plains in the program.
"It could be from a personal experience. We've had [situations where] grandpa's got Alzheimer's and they want to study it. They just have to have a love for something," Timothy Selg, the teacher of the program, said. "Usually the sophomore class is the largest and the senior class is the smallest because of attrition. Students don't realize the amount of time that it takes to do what they want to do."
More than 1,800 students entered the Intel competition nationwide. Van Doren was one of 300 semifinalists, including 14 from Westchester County, and one of just 40 finalists.
Van Doren will go to Washington, D.C. in March, where he will have the opportunity to meet President Obama.